Kverneland Ecomat
Shallow ploughing for particular soil conditions with 5-8 furrows
Højdepunkter
Økonomisk og tidsbesparende
Forbedret jordstruktur
Færre problemer med ukrudt, svampe og sygdomme
Minimeret forbrug af kemikalier
Bedre plantevækst
Kverneland Ecomat, a revolutionary concept in tillage methods 
Kverneland Ecomat is a lightweight implement that tills the soil extremely effeciently via shallow ploughing (10-18cm). New short bodies available in steel or plastic for low wearing.
Compared to conventional tillage, the farmer saves time and energy. The result: an equally good crop with less efforts. In comparison with reduced tillage system, the farmer gains a more secure and stable cultivation method for better results. The problem of weeds, fungus and other diseases also decreases. The farmer becomes less dependent on the weather and can work if the soil is relatively moist. Seeds will germinate and grow better in a clean, fine soil layer.
 Compared to reduced tillage:
more economical
time saving
better soil preparation
improved soil structure
reduced problems with weeds, fungi and diseases
minimize chemical usage
better growth
higher profitability
Working capacity:
working width: 4,00 m
working speed: 8 - 12 km/hr
capacity, seedbed: 2,5 - 3,5 Ha/h
capacity, stubble: 3,0 - 4,0 Ha/h
Multipurpose implement with proven economical savings.
Working depth  :
Eco ploughing: 14 - 18 cm
Eco Tillage: 8 - 14 cm
Eco Stubble: 6 - 8 cm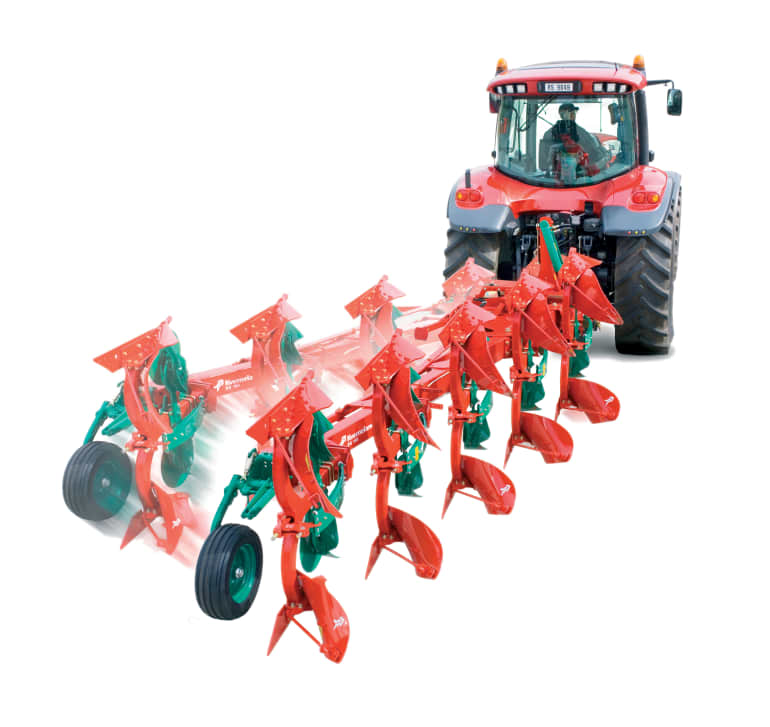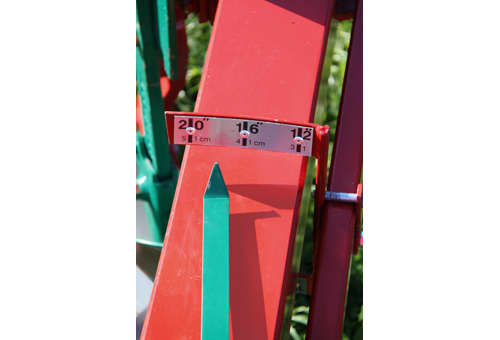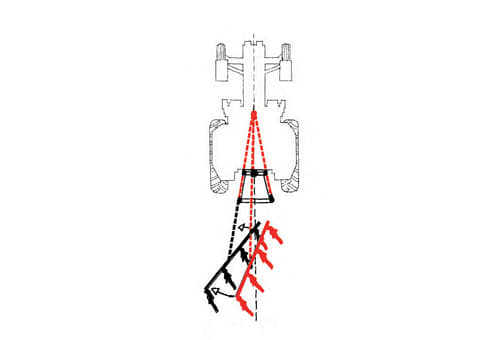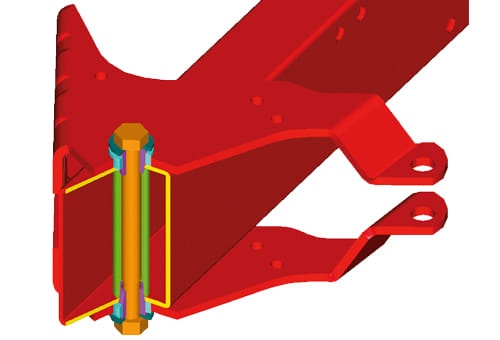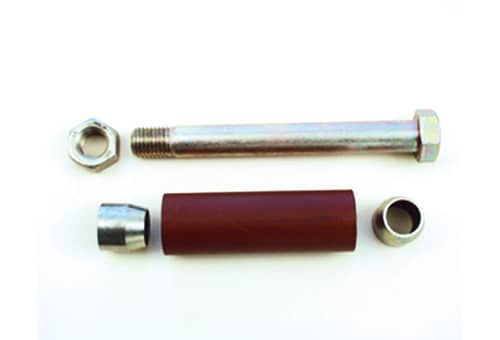 Trinløs Vari-width® system til trinløs justering, fra 30 til 50 cm (12 – 20") afhængig af model. Kvernelands verdenspatenterede system er tilgængeligt enten med hydraulisk eller mekanisk furebreddejustering.
Fordele:
Nemt at ændre furebredde
Altid perfekt tilpasning til enhver traktor og jordforhold
Tidsbesparende: op til 30 % mere kapacitet
Omkostningsbesparelse: Op til 18 % reduktion på brændstofforbrug i forhold til øget pløjekapacitet.
Bedre resultat
Minimalt slid: Unikke vedligeholdelsesfrie led mellem åsholder og hovedramme
Perfekte træklinier: Kvernelands Vari-width® giver perfekte træklinjer gennem hele ploven. Dermed opnås lavere trækkraft-behov og minimalt slid.  
Ikke til at stoppe i stenede forhold!
Kvernelands fuldautomatiske non-stop Auto-Reset system er det ultimative, når det kommer til problemfri pløjning i stenede forhold. Bladfjeder systemet sikrer, at plovåsen udløser ved jordfaste sten eller forhindringer på en rolig, glidende og effektiv måde. På den måde beskyttes plov og traktor mod stresspåvirkninger. Når forhindringen er passeret, søger ploven automatisk i jorden igen til den korrekte pløjedybde.
Sikkerhed frem for alt
Med nutidens krav til effektivitet skal både traktor og plov være stadig mere effektive. Dette stiller høje krav til udstyret, specielt sikkerhedssystemer, som er designet til at beskytte traktor, chauffør og plov, når der rammes jordfaste genstande. Med Kverneland Auto-Reset er sikkerheden helt i top!
Tilpasses ethvert behov
Afhængig af jordtype kan antallet af bladfjedre tilpasses ethvert behov. I dag leveres alle Kverneland plove i Danmark med HD fjederpakke, som består af en standard pakke med 5 fjederlag, samt en med 2 ekstra lag. Med HD pakken kan der pløjes i de lette til middelsvære jorde. Hvis det er meget svære jordtyper anbefales dobbelt fjederpakke.
Ekstra fjederblade kan tilføjes
Auto-Reset systemet med HD pakke, som er standard i Danmark, har et udløsertryk på 900kp, hertil er det muligt at tilføje yderligere 3 fjederlag, så udløsertrykket bliver næsten 1200 kp! De ekstra fjederlag tilføjes nemt, da de fastgøres med bare én bolt. Til de meget svære jordtyper er det muligt at udstyre ploven med dobbelt fjederpakke, som består af 2 fjederpakker med i alt 13 lag. Udløsertrykket vil da være 1400kp.    
Individuelle udløserere!
Kvernelands mekaniske Auto-Reset system er designet, så hver plovkrop udløser uafhængigt af hinanden. Garanti for kvalitetspløjning.
Minimalt slid og høj gensalgsværdi
KvernelandsAuto-Reset system er en meget simpel konstruktion, som bare virker år efter år med minimalt slid og vedligehold. Spar tid og penge! Ydermere sikrer Auto-Reset ploven lang levetid. Når en forhindring rammes, mindskes trykket på spidsen, rammen og plovdelene. Ved brug af hydrauliske udløsere øges momentet og stressen stiger. Kverneland med Auto-Reset reducerer stress væsentligt. Konsekvensen er, at en Kverneland plov har en højere gensalgsværdi end konkurrerende mærker.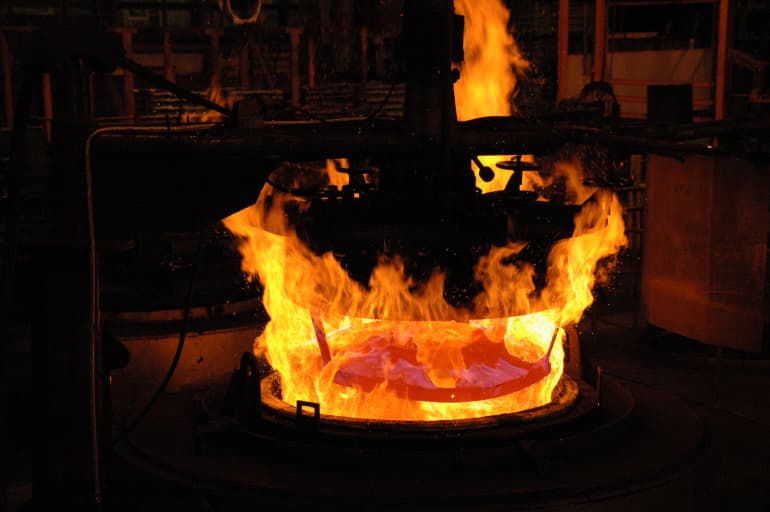 Kverneland varmehærdningsteknologi:
Mere end 130 års erfaring
Stål som modstår de skrappeste forhold
Bedste styrke/vægtforhold på markedet
For at konkurrenterne kan opnå samme styrke, kræves langt mere stål og dermed højere vægt med større slid og dårligere pløjeresultat til følge.
Kverneland ståltyper:
Fordelene ved lav vægt: Lettere at trække, lavere brændstofforbrug, lavere løftekraftbehov, reduceret slidtage, mere økonomisk og mindre stres til traktoren.
Fordele ved højere styrke: Minimale nedbrud, lavt vedligehold, mindre udskiftning af sliddele, tidsbesparende, højeste gensalgsværdi, længere levetid...
Problemerne opstår selvfølgelig når ploven skal bruges, og arbejdet skal gøres!
Med en Kverneland plov får man et roligt sind!
For mere info: Kverneland Technology
Teknisk specifikation
Download brochure
| | | | | |
| --- | --- | --- | --- | --- |
| No of furrows | 5 | 6 | 7 | 8 |
| Working width | 1.50 - 2.50 m | 1,80 - 3,00 m | 2,10 - 3,50 m | 2,40 - 4,00 m |
| Working width per body | 30 - 50 cm (12"-20") | 30 - 50 cm (12"-20") | 30 - 50 cm (12"-20") | 30 - 50 cm (12"-20") |
| Working depth | 6 - 18 cm | 6 - 18 cm | 6 - 18 cm | 6 - 18 cm |
| Interbody clearance cm | 65 cm | 65 cm | 65 cm | 65 cm |
| Under beam clearance | 72 cm | 72 cm | 72 cm | 72 cm |
Find en forhandler