Kverneland er kendt i hele verden for sin høje pløjeevne og spiller en vigtig rolle i dette veletablerede ry. Nogle Kverneland-plovkroppe er designet til specifikke jordbundsforhold, mens den nyeste Kverneland-krop nr. 38 er alsidig. Landmænd og entreprenører kalder den: "all rounder".
Fra overfladisk til dybt
Kverneland nr. 38 er en høj og bred krop, der gør det muligt at pløje fra overfladisk til dybt (12-35 cm).
Jordstrukturen og jordbundsforholdene er ofte forskellige fra mark til mark og fra sæson til sæson. Afgrøderne skiftes og kræver en anden pløjning. Ved at kunne tilpasse pløjedybden til enhver jordbund og planterester opnår du den bedste nedgravning, når som helst. De organiske materialer placeres således i den ønskede horisont for at skabe det bedste miljø for plantevækst.


Til brede dæk
Professionelt landbrug kræver det rette udstyr. Traktorerne er blevet større, og dækkene bliver større. Mange bruger 710 mm dæk. Der er derfor behov for en bred tom rille. Den lange Body 38 skaber den nødvendige tomme fure for at sikre en korrekt nedgravning af restprodukterne.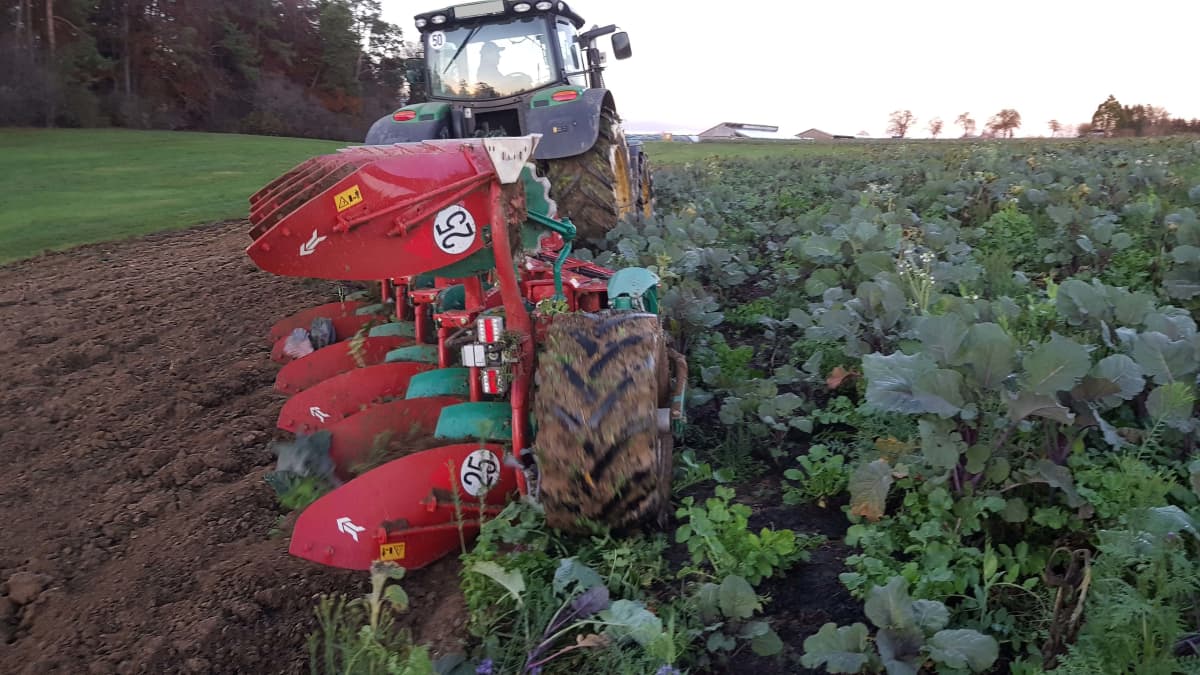 Lavt træk
Kverneland-stålteknologien anvendes på den komplette plov. Denne proces sikrer, at Kverneland-plovene er robuste og lettere end konkurrenternes. Som følge heraf kræver Kverneland-plovene færre trækkræfter og mindre løftekapacitet.
Kverneland-krop er konstrueret til at minimere trækkræfterne og samtidig muliggøre en høj pløjeydelse.
Gary Farley (UK) kommenterede: "Jeg har netop skiftet til en Kverneland-plov. Det er svært at forstå, hvor forbedringerne er kommet fra - måske er det nr. 28-krop eller kvaliteten af det anvendte metal - men vi kan nu pløje tre timer ekstra hver dag uden at skulle tanke op. Der er bare noget ved den måde, som ploven håndterer jorden på - det er virkelig imponerende."
Cologne University of Applied Sciences (2014) og Wilmsmann (University of Hohenheim, 2013) sammenlignede krop nr. 28 med den tilsvarende fra konkurrenterne. 


Kvalitetspløjning
Til forberedelse af jorden før såning af sukkerroer og kartofler, "selv om vi har mulighed for at pløje på jorden, er der tidspunkter, hvor forholdene kræver, at vi kører i marken for at opnå bedre trækkraft, og brede dæk ville påvirke den forreste fure", "og disse større skråplanker", dvs. krop 38, "løste problemet med det samme". Kvaliteten af vores pløjning er endnu en gang i top", siger Bob, der arbejder sammen med sin bror Philip i familie virksomheden med 1980 ha, på Rookery Farm, UK.
Kverneland 38 giver de bedste resultater i middel til hårde jordtyper. I sidstnævnte er jorden fast pakket med alle stubber og ukrudt begravet for at sikre en hurtig nedbrydning af restprodukter.