Højdepunkter
Stærk modstandsdygtighed over for slid og vridning
Grundig smuldring over hele arbejdsbredden
Maksimal alsidighed med alle typer såmaskiner
Reduceret spidsbelastning og brændstofforbrug
Stort udvalg af bagruller
The Kverneland S series is a heavy-duty power harrow for tractors up to 250hp. With the Kverneland heavy-duty, self-supporting trough design and the Quick-Fit tines, the S series is the right solution for larger farms and contractors.
The standard gearbox with a rotor speed of 298rpm is equipped with replaceable gears. In order to cope with various soil conditions, the control of rotor speed is crucial. Therefore, additional gear sets to achieve 365rpm or 435 rpm are available as an option. Parallelogram-guided side deflectors with overload protection allow smooth operation and an even soil surface without any ridges.
The S series is equipped with Quick-Fit tines as standard. By a special pin and clip system, exchanging the tines has become very easy and quick without the need for tools. Depending on soil conditions, forward active tines are available which are more aggressive. In order to cope with difficult soil conditions, the trough design provides a large clearance between the tine holders and the trough bottom. This reduces the risk of blockage and ensures optimum performance also in case of large amounts of residues and stones.
The Advantages:
Strong resistance to abrasion and torsion of the self-supporting trough
Robust headstock
Thorough crumbling over entire working width by four rotors (8 tines) per metre
Max. versatility – easy and simple combination with all types of seed drills
Reduced peak load and fuel consumption
Large choice of rear rollers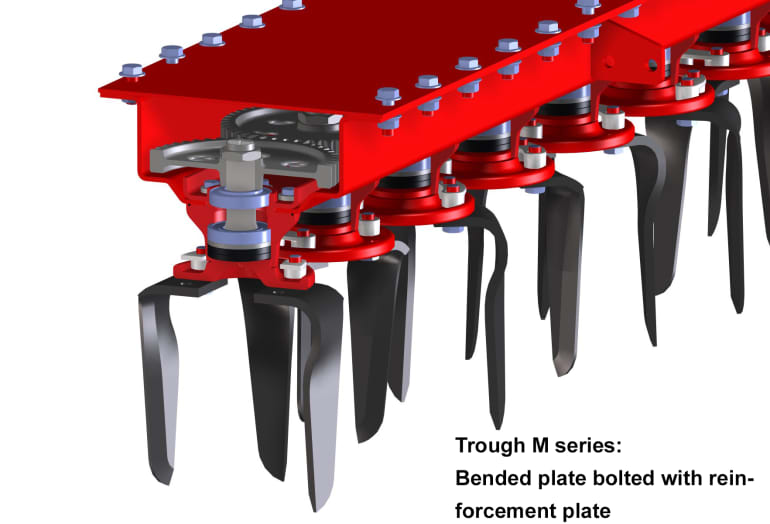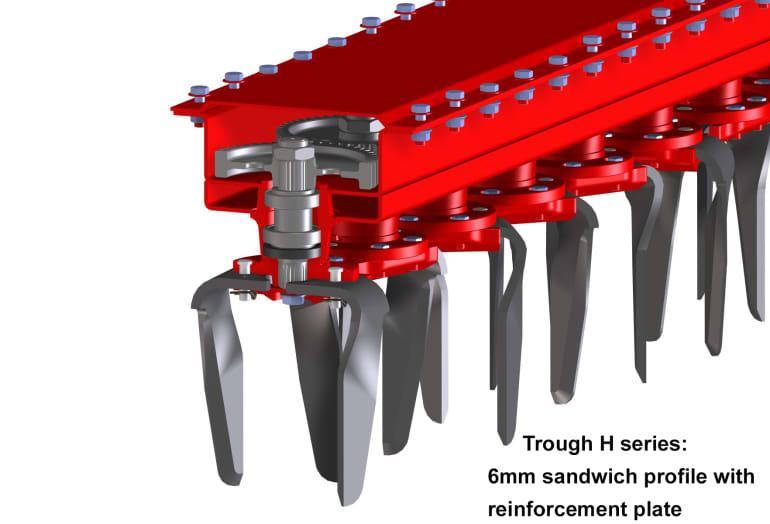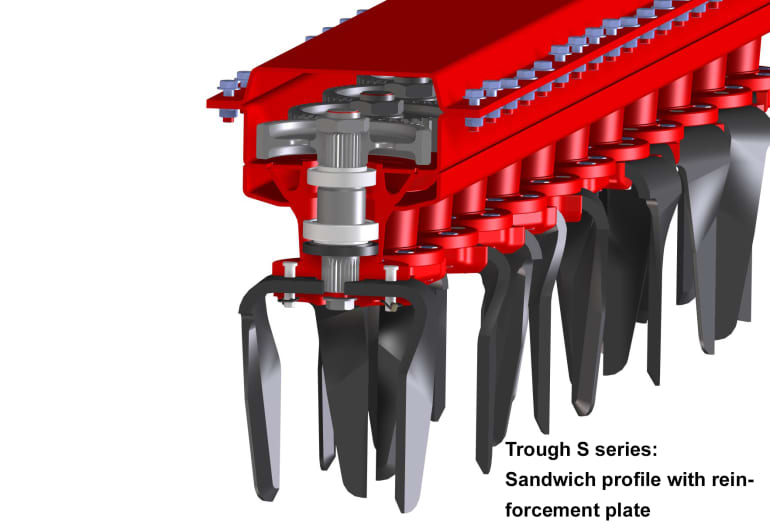 For optimum performance in difficult soil conditions, the robust and self-supporting trough design provides a large clearance between the tine holder and trough bottom. This allows large amounts of residues and stones to pass freely without blocking and provides excellent results in mulch conditions.
| | | | | | | |
| --- | --- | --- | --- | --- | --- | --- |
| Model | Trough dimension (mm) | Gears | Ø Shaft (mm) | Bearings (mm) | Bearing distance (mm) | Rotor clearance (mm) |
| M series | 140 x 400 | tempered | 40 & 45 | 80 - 90 | 70 | 98.25 |
| H series | 165 x 400 | tempered & hardened | 45 & 50 | 90 - 100 | 84.5 | 90.5 |
| S series | 200 x 400 | hardened | 55 & 60 | 110 - 120 | 110.5 | 100 |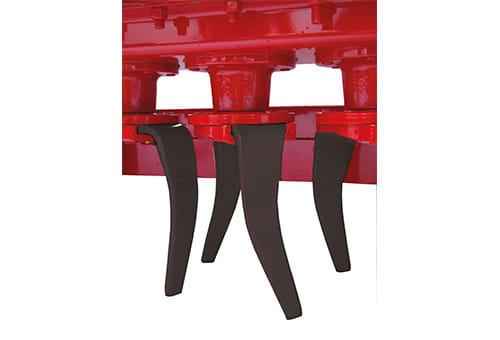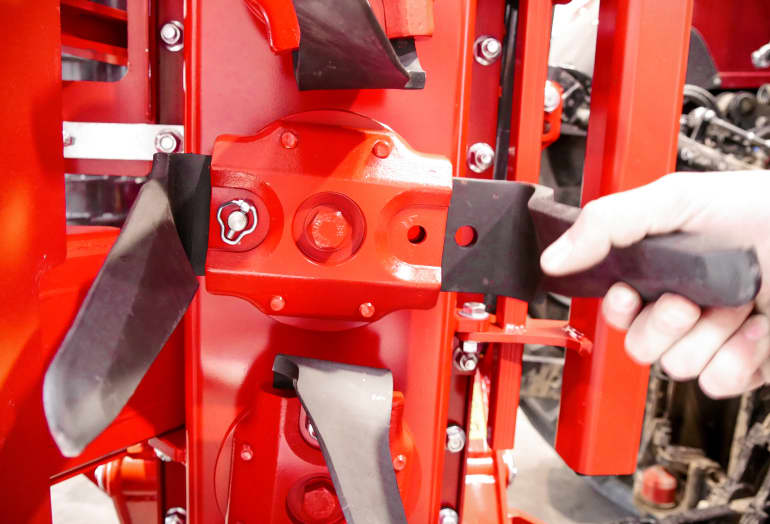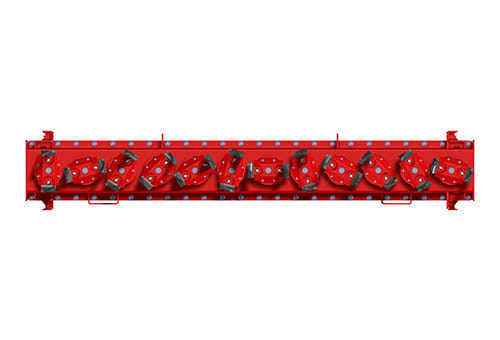 The S Series is equipped with Quick-Fit tines as standard. These are secured by a special pin and clip mounted in the tine holder. Tine replacement is, therefore, very easy without the need for tools. Downtime can be further minimized by an optional carbide layering of the tines. This will ensure a long liftime and minimum wearing even in tough and abrasive soils.
Depending on soil conditions there is the choice of Standard and Active tines. 
Active tines
The active tines ensure optimum penetration in hard or not cultivated soil. The tine, due to its shape, pulls itself into the ground. This gives a constant working depth and also prevents the machine from lifting out of the ground in hard dry soil conditions. In addition, it creates additional re-compaction at the packer roller. The active tine lifts the material and pushes it in front of the power harrow. This gives an optimum levelling effect even in tractor tracks. In mulch conditions the active tines can work directly into stubble and hard soil. The special shape of the tines keeps residues on the surface and this gives a big advantage against erosion.
Helical tine positioning
The tines are arranged in varying angle positions in order to prevent damage caused by stones and ensure even levelling. 4 rotors per meter and the helical tine positioning reduce the peak loads on the driveline which results in smoother running and less fuel consumption. All gears are hardened in the trough for a long lifetime.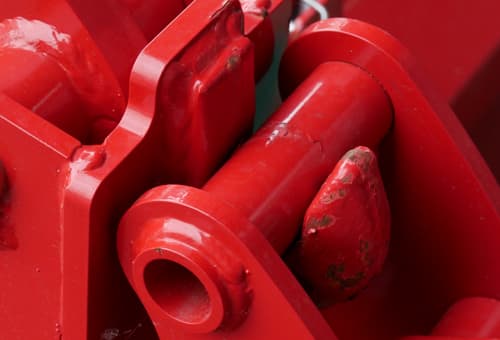 Flexibility is key!
The coulterbar can be easily coupled and uncoupled with a coupling hook similar to the front loader coupling. Track markers are attached to the power harrow. Therefore, the power harrow is ready for solo operation within short time. The coulterbar is attached with the Euro-Connection directly to the roller frame and can quickly and easily be hitched thanks to the readily accessible hydraulic and electronic interface.
The e-drill is exclusively designed to be combined with Kverneland power harrows (H-series and NGS).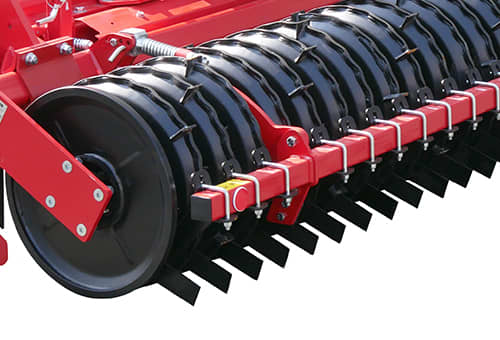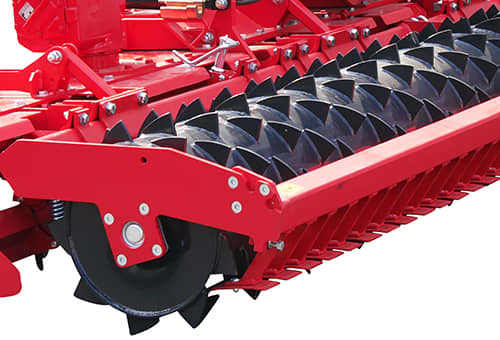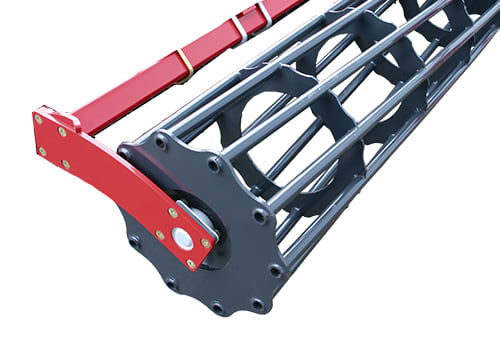 Re-consolidation for a stable soil structure
Rollers ensure re-cmpaction of the soil as final step of the optimum seedbed preparation. By reducing soil porosity and limiting evaporation, all plants will have the same access to nutrients, moisture and light. This will give the crop a good start for a perfect growth and high yields.
The right rollers for all types of soil and conditions:
Actipack ø560mm – 205 kg/m
For medium to heavy soils, also in wet, stony and sticky conditions due to the independent skids and knives
The cutting discs break the larger clods whilst the adjustable knives cut the remaining clods resulting in optimal clod breakdown and fine seedbed preparation
Cracker Packer ø550mm – 200kg/m
For medium to heavy soils
Real stripe-wise reconsolidation (12.5cm) in front of seed coulters – only 50% of the soil surface is rolled
Good absorption of water
Sufficient soil left loose for covering of seeds
Good crumbling effect especially on heavy soils
Smooth rings and passive-angled knives – no blocking when used in mulch conditions
 Tooth Packer roller ø575mm – 160kg/m
Medium to heavy soils
Good carrying capacity
Good self-cleaning effect
Central adjustable scraper bar with independently adjustable scrapers
Carbide coated scrapers on request
Most versatile roller – especially as part of heavy power harrow/seed drill combination
 Cage roller ø550mm – 90kg/m
Light to medium soil and dry working conditions e.g. seed bed preparation for potato planting
10 bars for a good loading capacity and option in wet conditions
Teknisk specifikation
Download brochure
| | | | | |
| --- | --- | --- | --- | --- |
| Model | Working width (m) | No. of rotors/tines | Weight with packer roller (kg) | Min./max. HP |
| S series | 3.0 | 12/24 | 1,670 | 100/250 |
| S series | 3.5 | 14/28 | 1,950 | 100/250 |
| S series | 4.0 | 16/32 | 2,225 | 100/250 |
| S series | 4.5 | 18/36 | 2,510 | 100/250 |
Find en forhandler