Kverneland 853 Pro - 856 Pro
Øget kastelænge og blokeringsfri oprivervalse
Højdepunkter
3.0m³ kammer
Blæseafstand op til 20 m
4-trins drejelig Pro-skakt eller sideskakt
System til kontrol af tromletilførsel - Blokeringsfrit design
Unik tromlekniv til en lang række forskellige materialer
Kverneland 853Pro og 856 PRO nu med øget kastelænge og blokeringsfri oprivervalse.  
Den nye Kverneland 853 PRO og 856 PRO har fået en række opdateringer i forhold til de velkendte Kverneland 853 og 856 strømaskine, for at tilbyde brugeren en højere grad af komfort under drift.
Den nye PRO serie tilbyder en stærk pakke af nye funktioner såsom redesignet svinghjul, ny 3-trins drejbar tud, patenteret blokeringsfri indføring (kun 853 PRO) og fjernstyring af bagklappen og gulvkæden på siden af maskinen.  
Fordele:
3 og 6m³ kammer.
Redesignet svinghjul med kastelænge op til 25 m.
Ny 3-trins drejbar tud.
Drum Feed Control System – Blokeringsfri indføring (kun 853 PRO)
Optimeret for strøning og fodring.
Unik tromlekniv konfiguration for håndtering af en lang række materialer.
To gear til nedsat svinghjulshastighed for tilpasning til fodring eller strøning.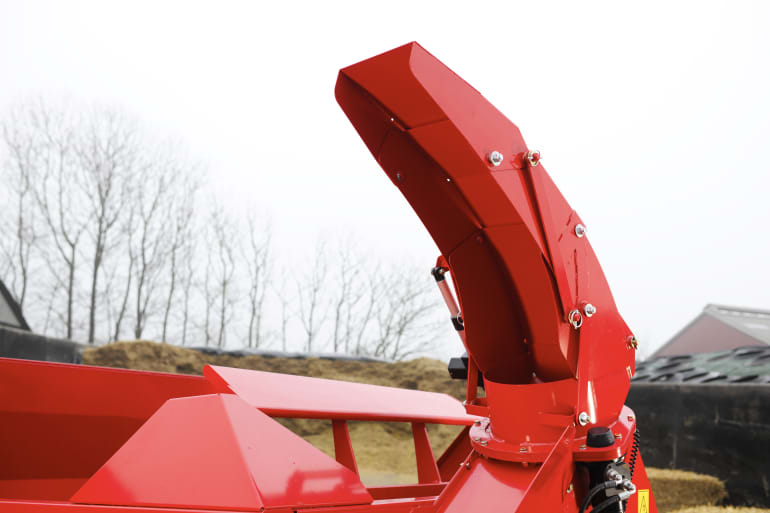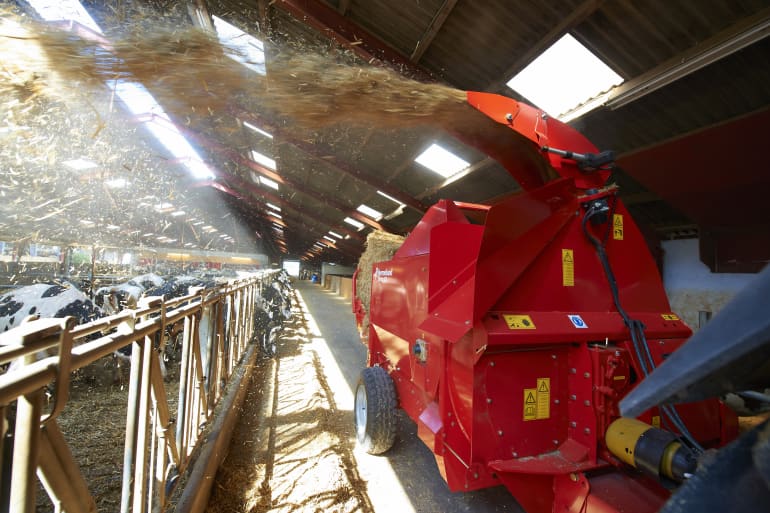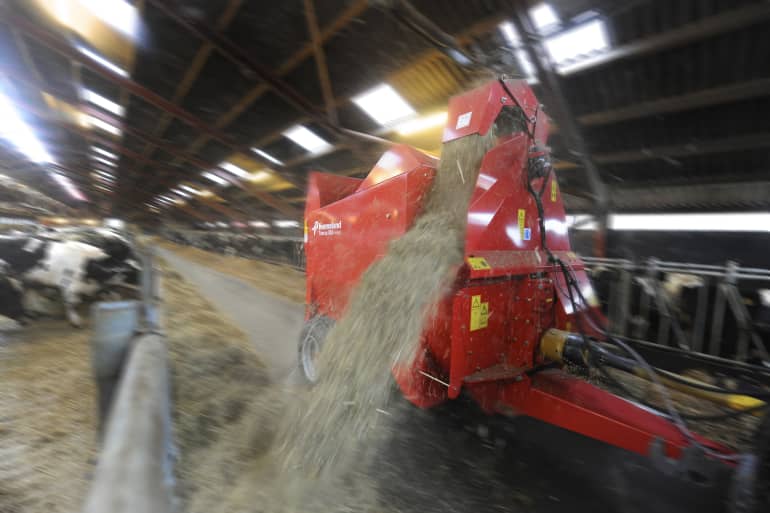 The Pro chute operates in 3 stages to optimize the blowing distance for bedding
Blowing distance up to 20m.
Designed with a turning radius of 260° which enables easy access to even difficult reachable spaces.
The 3-stage movement enhance the feeding perfomance without blockage even on long fibrous material.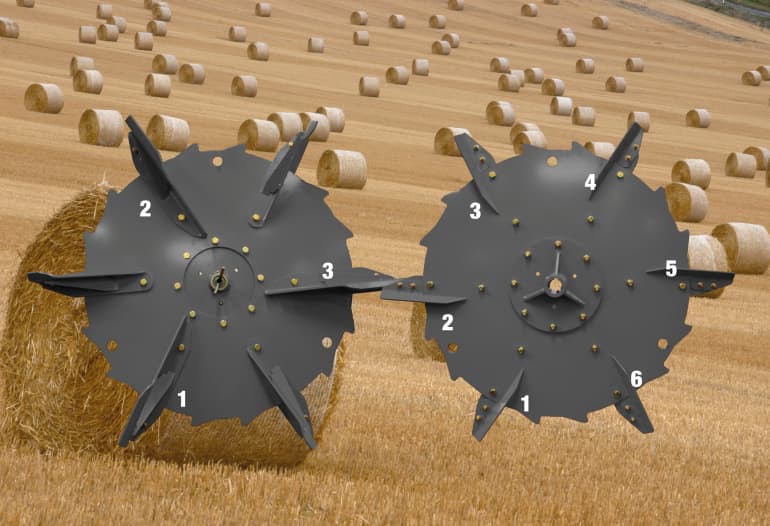 A new flywheel configuration has been developed for the Kverneland 853 Pro and 856 Pro.
The features in construction designed 3-stage swivel chute enables the perfect combination of extensive blowing distance and feeding into high troughs
To maximise airflow the 1.55m diameter flywheel is fitted with 6 large front blower paddles.
The flywheel features 3 main paddles for an increased intake of material from chamber to flywheel.
The flywheel does not chop the straw, thus ensures virtual full length material suitable for bedding of covered yard areas.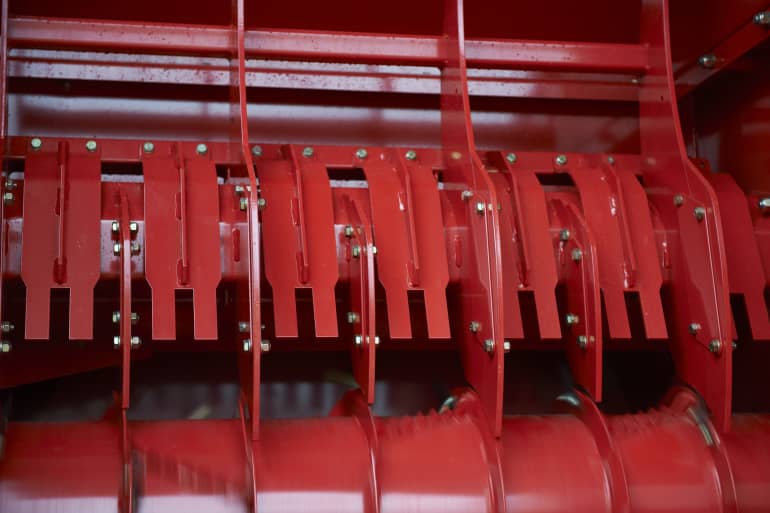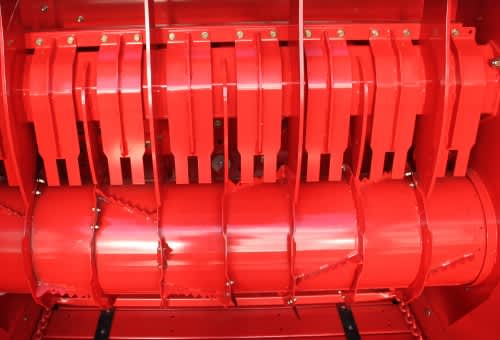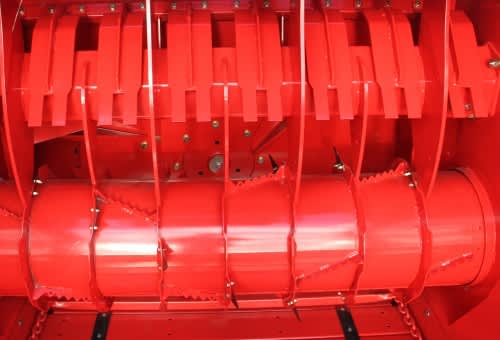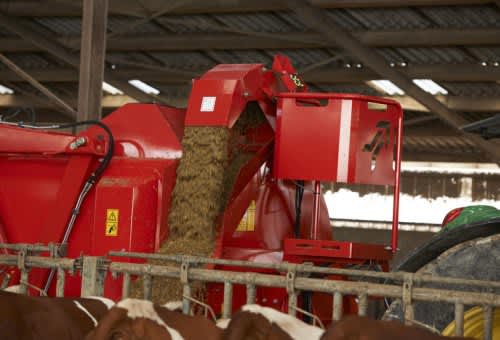 The Drum Feed Control System (DFCS) is an exclusive feature (patent pending), designed to handle even the most difficult material when feeding.
It is a simple and reliable system, which includes a powerful electric cylinder and a comb positioned above the drum.
During loading DFCS is engaged, which means that the comb is in a lowered position.
This ensures that blockages of the flywheel is minimized during the loading and start up process.
Once the flywheel speed is at a sufficient level, all you need to do is to push a button and the DFCS 'fingers' will be gradually disengaged and open for full flow through the flywheel resulting in
perfect flow.
The progressive release of the 'fingers' offers a more gentle start, protecting the machine and minimizing the risk of blockages.
A reliable and simple system with minimum maintenance!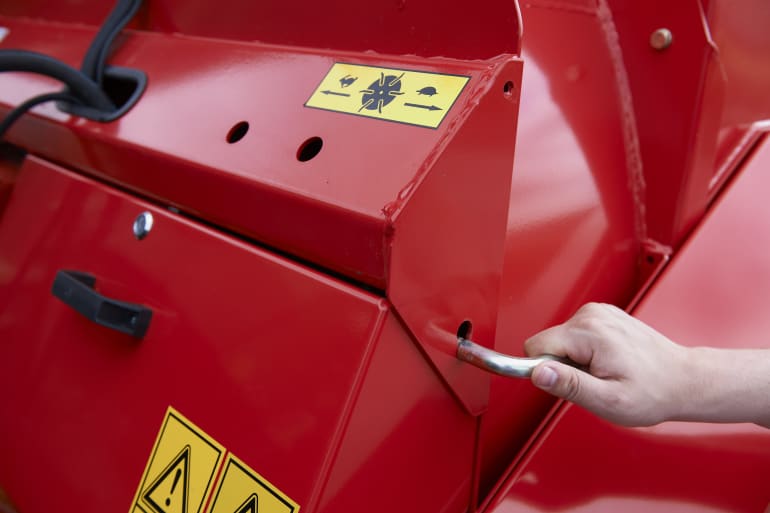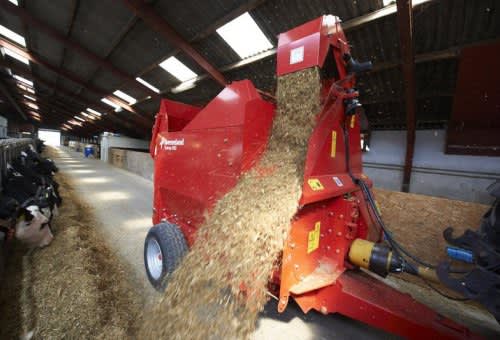 To provide the correct flywheel speed for bedding and feeding the Kverneland 853 and 856 are fitted with a two speed gearbox.
At lower speeds the flywheel ensures a metered flow of silage or hay for feeding.
At high speed a powerful blow for the most efficient distribution during bedding is ensured.
The gearbox speed is adjusted via the handle on the side of the machine.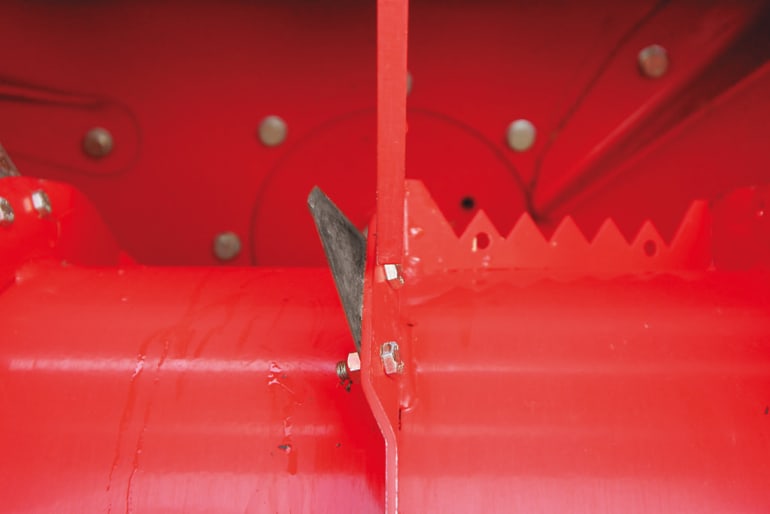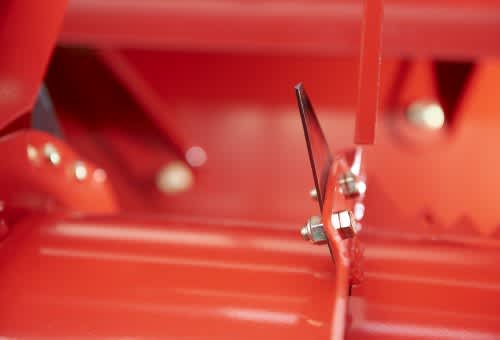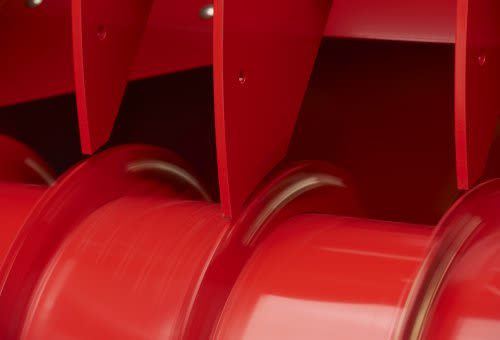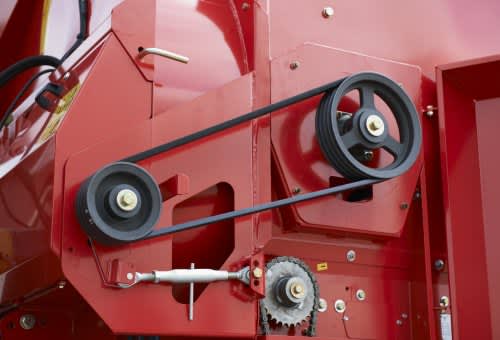 The Kverneland 850 range includes a unique drum – knife configuration.
Standard on models 853 & 856, the knives are mounted on angled rings so that they pass a fixed 'comb' on alternative sides.
This ensures that materials are cut and fed into the flywheel chamber evenly, reducing the risk of blockage, offering even  discharge & leaving the drum and comb clean.
The drum is fitted with 14 blades as standard, but will accept a further 28 blades according to material type – simply bolt them on in a matter of minutes.
A patented system - the knives pass the fixed comb on alternative sides for a more even cut.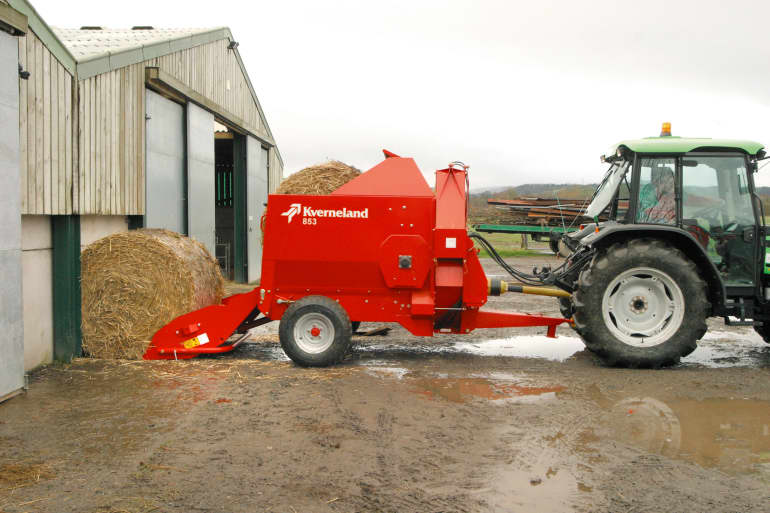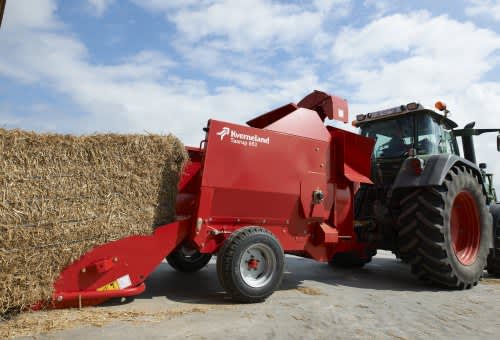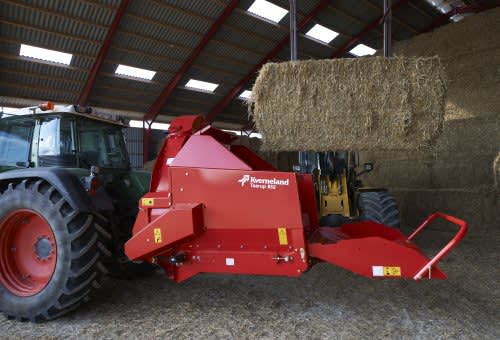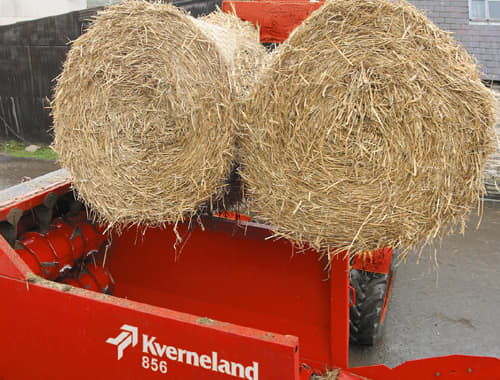 The hydraulically operated rear door fitted to 800 series provides a self loading facility for easy loading of square and round bales.
The rear door also offers the ability to carry a second round bale for increased capacity.
A bale kit can be fitted to the end of the tailgate to ensure that the bales stay in position during operation.
The size of the bale chamber makes it very easy to load the material with a loader - and two round bales can be loaded at the same time - saving time.