Kverneland PUDAMA
Besparelse på op til 25 % på startgødning: Systematisk spot gødning i forbindelse med majssåning.
Højdepunkter
Save 25% starter fertiliser with 100% yield
Utmost precision and efficiency
Sustainable farming system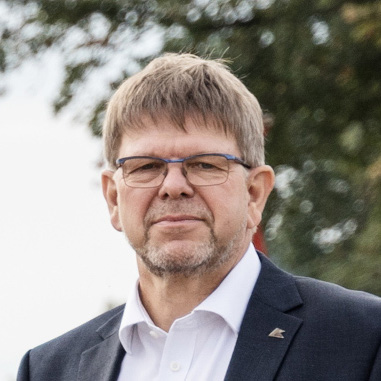 "Key for farming now and in the future is to reduce the environmental and climate impact of how we produce and consume food. With PUDAMA, we can save 25% of the starter fertiliser. That means it does not go into the soil and it is not washed out. At the same time, we are talking about saving 81,000 tonnes of fertiliser per year in Germany, fertiliser which does not even have to be produced."
Volker Schanzenbach
Kverneland R & D Manager
PUDAMA står for en systematisk fokuseret spotgødning under majssåning. Det giver mulighed for præcis såning af majs med en specifik placering af et startgødningsdepot præcis under majsfrøet, hvor der er behov for det.
Udfordringerne inden for bæredygtigt landbrug bliver stadig større. Og når tiderne bliver hårde, er der kun én ting at gøre: at tænke innovativt. For eksempel at overveje, hvordan man kan opnå det samme eller et endnu højere udbytte med lavere input.
Fordelen ved PUDAMA's målrettede, diskontinuerlige gødningsanbringelse i området omkring majsfrøene i forhold til den etablerede rækkegødningsspreder er en langt mere gunstig udnyttelse af næringsstofferne af planterødderne. Dette reducerer mængden af tilgængelig startgødning mellem majsrækkerne og mindsker i væsentlig grad udledningen af nitrat og fosfat til vandsystemerne.
KVERNELAND PUDAMA SYSTEM
Ved gødningsskæret kommer gødningen kontinuerligt ind i kanalen via doseringsenheden og forbliver på en lille børste i røret. En permanent højtryksluftstrøm er forbundet med ventilen via en lille slange. Denne ventil åbner periodisk afhængigt af signalerne fra det opto-elektroniske kontrolsystem under såhjertet.
Afbrydelsen af luftstrømmen styres af ventilen med jævne mellemrum. Når luftstrømmen stoppes, forbliver gødningen på børsten. Når luftstrømmen starter igen, skydes gødningen ned i jorden. Efterhånden som gødningen samler sig på børsten, skydes den ned i jorden som et depot. Hvor ofte denne ventil åbner og lukker, afhænger f.eks. af traktorens kørehastighed og frøafstanden i rillen.  En arbejdshastighed på op til 15 km/t med Optima SX PUDAMA betyder en frekvens på op til 25 gødningsspots pr. sekund.
PUDAMA system er blevet implementeret i Optima TFprofi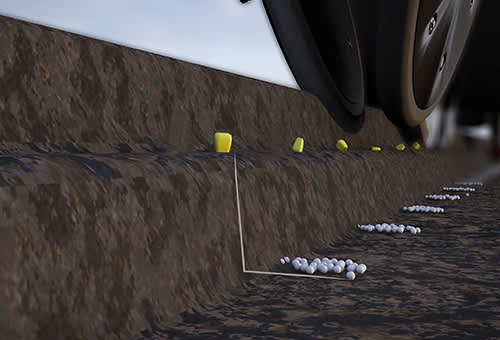 Kvernelands PUDAMA-systemløsning
Gødskning sikrer, at afgrøderne får tilført næringsstoffer, men overgødskning har ofte en uønsket effekt på miljøet og jordens økosystem.
Hvordan holder man balancen?
Konventionel båndgødskning placerer et kontinuerligt bånd af gødning også mellem planterne, hvor rødderne ikke kan nå det. Det er den mængde gødning, der simpelthen går til spilde og vaskes ud.
Kverneland PUDAMA
Med PUDAMA er mængden og placeringen af gødningen præcist defineret. Næringsstofferne deponeres kun der, hvor kornets rødder kan nå dem, og kun så meget som nødvendigt. Synkroniseret med frøudbringningen ved høje hastigheder placeres en sky af gødning af en luftstrøm under og på siden af frøet under såningsprocessen. Hvert frø har et optimalt gødningsdepot til sin rådighed, som absorberes fuldstændigt af planterne. På denne måde undgås tab og udvaskning, og produktionen af gødningsråvarer kan også reduceres. Kort sagt øger PUDAMA effektiviteten i brugen af mineralsk startgødning i majs - og opretholder dermed 100 % udbytte, mens der spares mindst 25 % startgødning.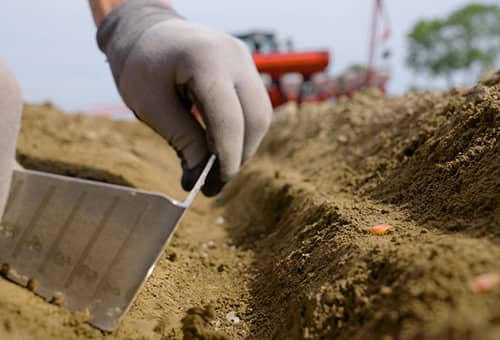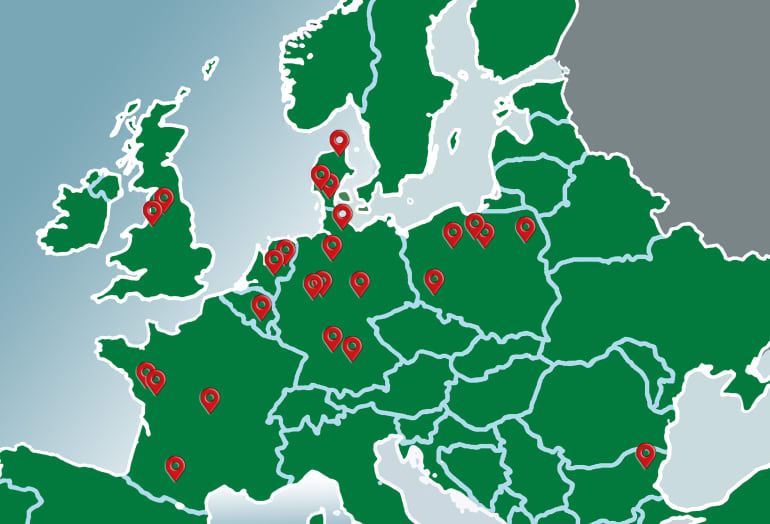 PUDAMA, er blevet udviklet af Kverneland Group Soest GmbH i de seneste år i samarbejde med TH Köln, Institut for Bygge- og Landbrugsmaskinteknologi i Köln. Resultaterne af disse undersøgelser er blevet offentliggjort som reference her på engelsk og tysk. Yderligere tests og forsøg er blevet udført under forskellige forhold over hele Europa.
RESULTATER
PUDAMA-systemet sikrer en reduktion på mindst 25% af gødningsforbruget sammenlignet med kontinuerlig gødningstilførsel - samtidig med at man opretholder 100% udbytte. Med teknologi som Kverneland Optima TFprofi SX PUDAMA-præcisionssåmaskinen kan landmænd spare meget ved at reducere omkostningerne til gødning, transport og arbejde.