Kverneland Roc 1073 S
Universal rive med variable arbejdsbredde fra 7 – 7,3 m.
Højdepunkter
Et bælte med savformede, glasfiberforstærkede tværstænger
Brede affjedrede tandemhjul under bæltet giver beskyttelse til græsmarker
Det unikke bæltedesign resulterer i jævne og luftige skår
Afgrødeplacering og skårvolumen kan være meget alsidig
Takket være den store mængde olie er der ikke behov for en køleventilator
Oplev det næste niveau af rivning med Kverneland Roc 1073 S rive. Øg afgrødekvaliteten og forbedre dyresundheden med vores river. Maskinen er designet med lave vedligeholdelseskrav og nem adgang til reparationer, hvilket gør den omkostningseffektiv og produktiv at betjene. Kverneland Roc 1073 S er en rive med to pickups udstyret med et hydraulisk sideskift af pickup-enhederne, hvilket gør det muligt for operatøren at bruge maskinen til side- eller centerlevering. Sidelevering med den smalleste arbejdsbredde på 7m åbner til maksimalt 7,30m som midterskår.
Et fremragende affjedringssystem giver præcise løft og transport af afgrøder og undgår samtidig jordforurening, hvilket sikrer høj kapacitet under alle forhold. Med sin standard pick-up er denne rive perfekt udstyret til sene korte, våde, klæbrige ensilagesnit. Det forstærkede bælte har savklingeformede tværstænger, der fungerer godt under alle afgrødeforhold. I tørre afgrøder med store mængder kan den fuldt ophængte valse løftes hydraulisk fra kabinen i enhver position. Kverneland Roc 1073S riven har en hydraulisk dobbeltvægt, der kan bruges til side- eller centerlevering, og er bygget på to elementer. Arbejdsbredden på sideleveringen varierer fra 7 m til maksimalt 7,30 m, når der laves et midterskår eller vender to skår. Når pickupper forbindes, flytter båndsammenlægningen afgrøden til den ene eller begge sider. Udvidede pick-ups skaber et centralt eller dobbelt skår med bælter, der bevæger sig til venstre, højre eller begge sider. Når afgrøden bevæger sig langs transportbåndet, er der ingen reb, hvilket tillader flere opsamlinger og transport for at skabe store skår til snittere med høje hestekræfter.
Kverneland Roc 1073 S riven kan foldes til 2,5 m bredde for nem vejtransport og har vejophæng for komfortabel og hurtig transport.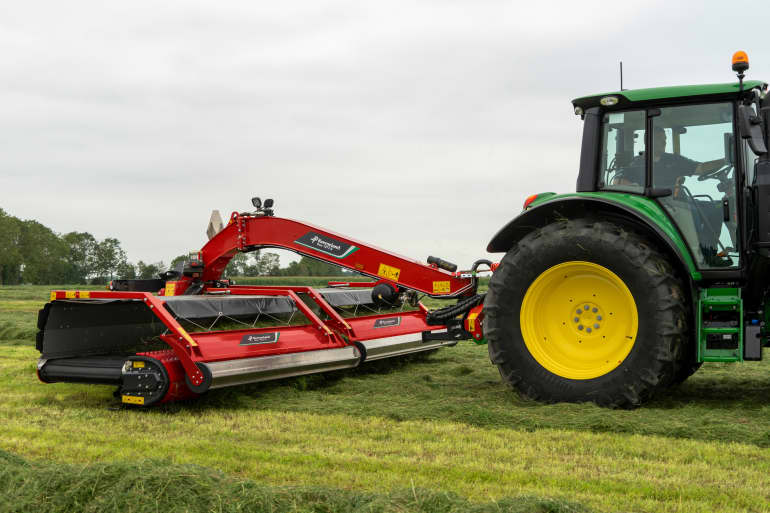 Large roller to operate in all crops
The roller is in all positions hydraulic suspended
Specially designed belt and pickup
If the crops are dry, the roller can be lifted from the cabin to protect the leaves
A single belt system with two pick-ups
Fiberglass-reinforced saw blade-shaped crossbars provide optimal transportation for dry and wet crops
An actively-driven belt, equipped with a sprocket and gear belt, ensures continuous operation even in heavy crop conditions
Most maintenance and repairs can be done without removing the belt, and all parts can be disassembled with a single wrench
The speed of the belt and pick-up can be precisely adjusted
The tension of the belt is evenly distributed between the left and right sides since it is adjusted centrally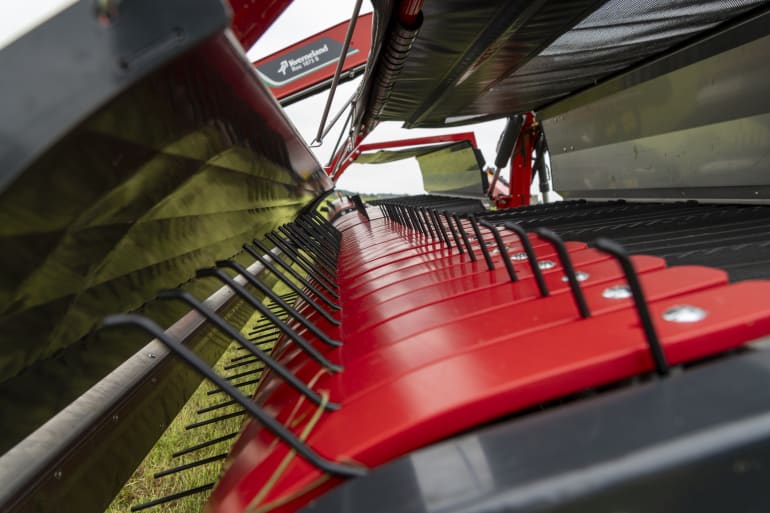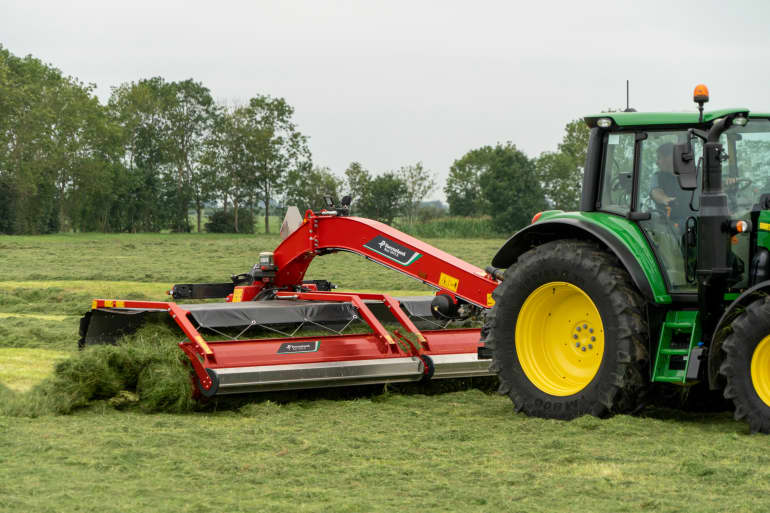 Controlled pick-up with two cams and six tine bars
For heavy crops such as silage and maize straw, it is recommended to use wide stripes
Heavy-duty plastic strippers maintain shape when hitting rocks and their design prevents crop loss
Even the shortest crop can be transported on the belt with the hydraulic adjustable roller suspended in all independent positions
Replacing tines with only two bolts to remove (one per tine and one per plastic stripper) using only one hand
It is possible to repair bearings, cam track, and tine bars without the need to disassemble the pick-up
Electric height adjustment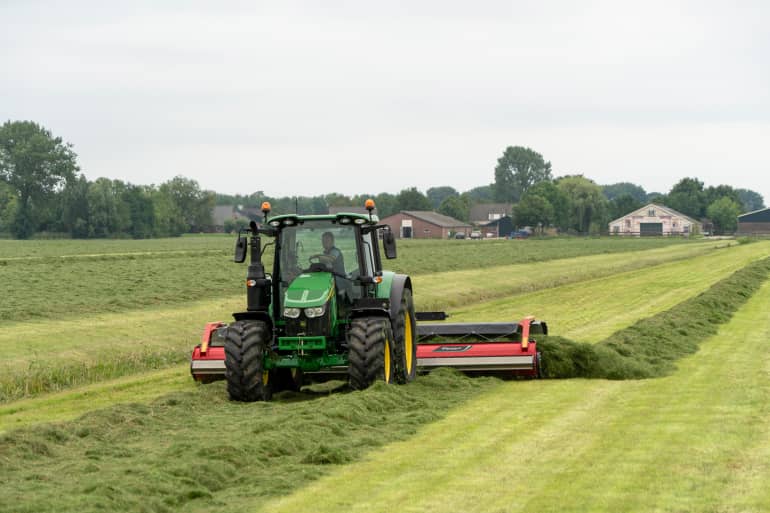 The machine is designed for both centre and side delivery
The side delivery has a working width of 7m, expanding to a maximum of 7.3m
With expanded pickups, the rake can create a central swath or side belts turning left or right
As the crop is transported on the belt, there is no roping, so the swath can be picked up and transported several times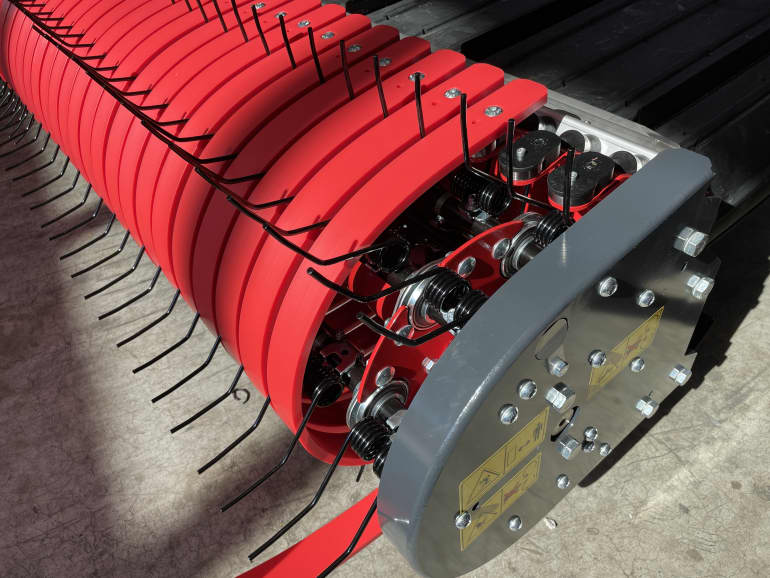 Our mergers are designed and built to be maintenance-friendly
All components can be easily disassembled
Wear parts are in small size and replaceable with limited efforts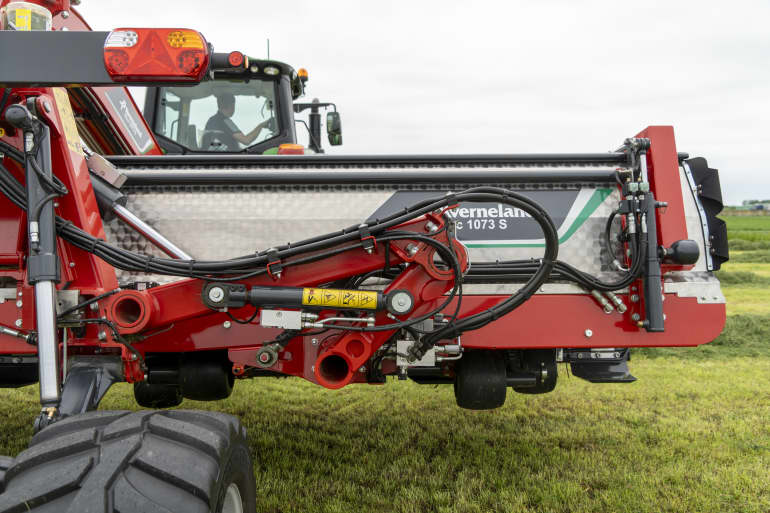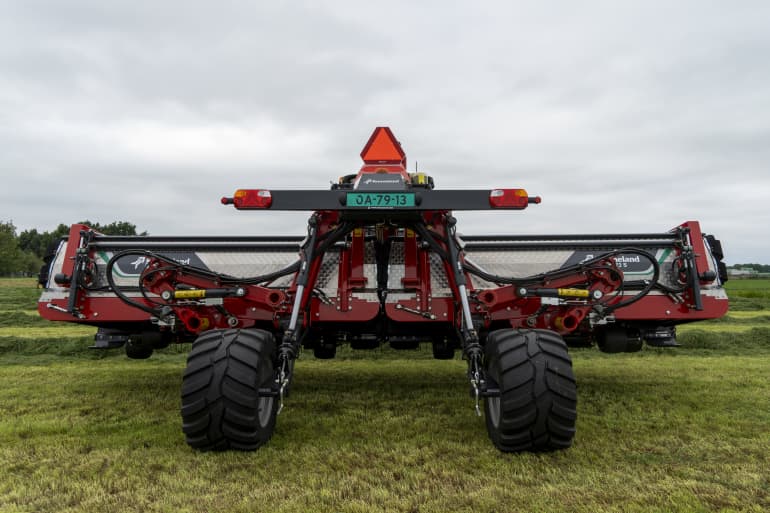 To ensure a high speed and a clean crop in all conditions, four suspensions are used
The pickup's standard tandem wheels protect the ground from damage
The tandem wheel comes equipped with a spring suspension system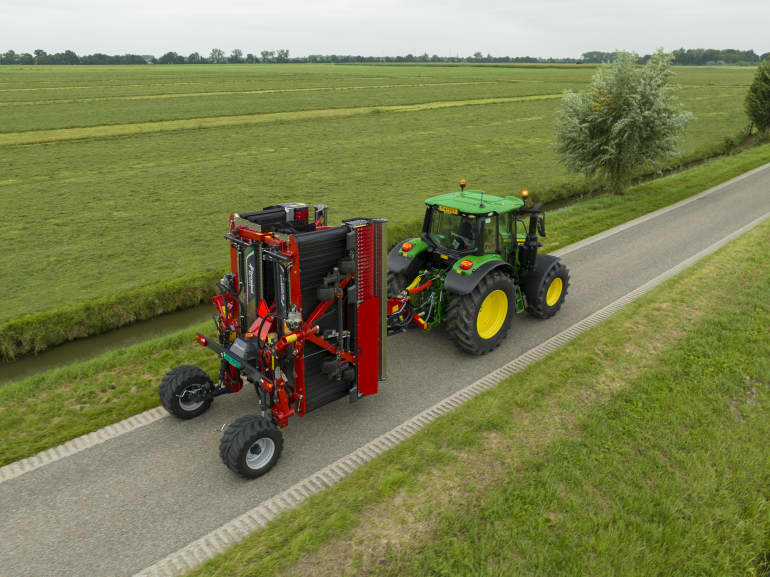 With a transport width of only 2.5 m the machine can travel easily on narrow roads and does not require any special permissions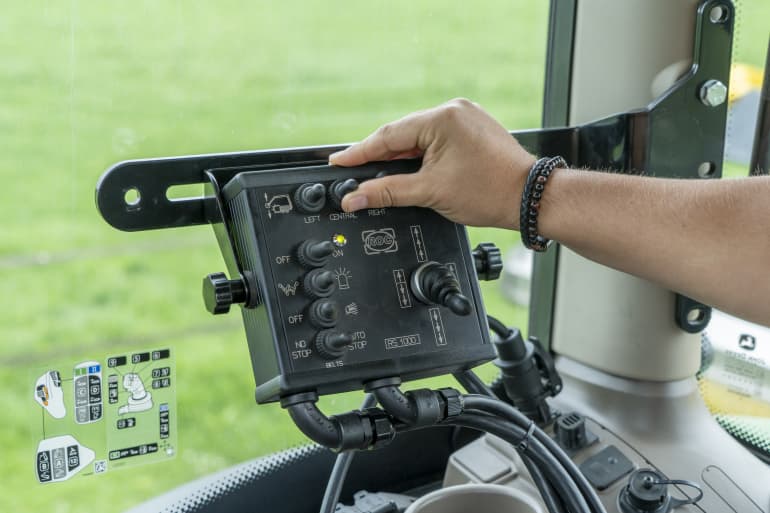 An easy-to-use control panel manages all essential functions.
The terminal provides optional features such as belt auto-stop when lifting the machine to ensure a clean swath ending
The safety system allows basic machine functions and operation without electronics
Teknisk specifikation
Download brochure
| | | | | | | |
| --- | --- | --- | --- | --- | --- | --- |
|   | Working width center swath (m) | Pick-up width (m) | Belts n | Transport width (m) | Power requirement    (hp)   | Weight (kg) |
| Kverneland Roc 1073 S          | 7-7.3 | 2x2.95  | 2 | 2.5 | 70 | 3440 |
Find en forhandler