Kverneland 6716 - 6720 Plus FlexiWrap
Baler wrapper combination with variable chamber baling concept.
Højdepunkter
Integreret løsning til presning og indpakning i én arbejdsgang
Baller med variabelt kammerkoncept 
PowerBind-system til hurtig og meget pålidelig netning
Lav bordhøjde for skånsom aflæsning af baller
Indpakning med høj hastighed med to forspændingsmaskiner
Integrated Baler Wrapper Combination
The latest Kverneland 6000 Plus series FlexiWrap baler wrapper combinations feature similar upgrades to the solo baler models, designed to boost output and reduce maintenance requirements, keeping operating costs to a minimum. These new models feature a revised chassis design with a new drawbar and extensive detailing to reduce crop build-up. Upgraded wheel equipment and ISO compatible controls are also new introductions.
The Advantages:
Integrated solution for baling and wrapping in one go.
Variable chamber bale concept with a bale diameter of 0.60-1.65/2.00m.
PowerBind with direct net injection for fast and highly reliable netting.
Wrapping table is transferred to the tailgate of the baler, so the bale is dropped directly onto the table.
High-speed wrapping with two prestretchers – wrapping process will always finish before the next bale is ready.
Low table height for gentle unloading of bales. Optional bale on end kit available.
The extra film rolls are lowered hydraulically for easy change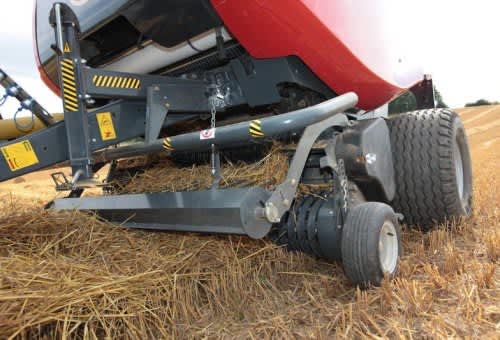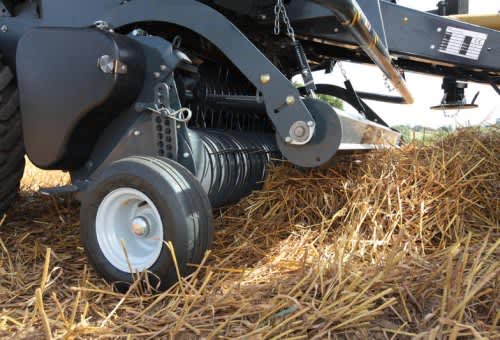 2.2m pick-up with small diameter pick-up reel for fast and efficient throughput.
Pick-up with 5 rows of tines
Twin cam tracks.
Tine bars with two central supports.
Small diameter pick-up design.
Roller crop press is standard.
Narrow transport width – no need to remove the pick-up wheels for transport.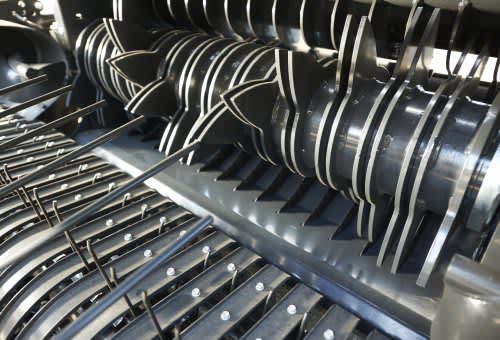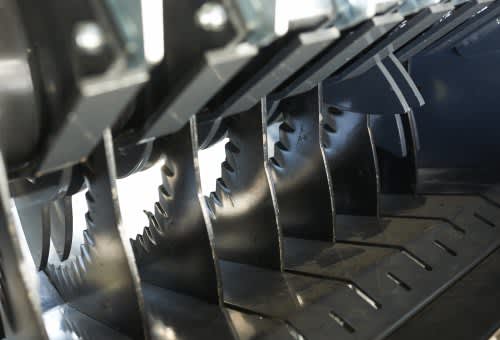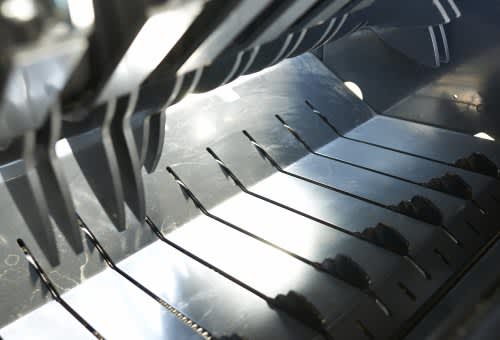 SuperCut-14
The SuperCut-14 knife chopping system provides a fast and efficient flow into the baler. With a chopping length of 70 mm it is the ideal solution for producing tight bales with superb silage quality.
Each individual knife is spring protected against foreign obstacles. The knife will immediately return to working position once the obstacle has passed.
SuperCut-25
The SuperCut-25 pre-chopping system offers the ultimate solution for short chop baling with a chop length of 40mm. The short and precise chop provides dense and airtight bales for the best possible silage quality.
The operator can choose to engage 25, 13, 12, 6 or 0 knives, giving maximum flexibility of operation.
The SuperCut- 25 knives are fitted with dual action protection against foreign objects. Each knife is individually spring protected and can move in two directions
PowerFeed Rotor Intake
Truly impressive intake capacity can be achieved with the PowerFeed rotor intake system - handling all crop types with ease, whatever the conditions.
The PowerFeed rotor with its 13 rotor fi ngers proactively forces the material into the bale chamber for higher intake speed and capacity proving instant bale start.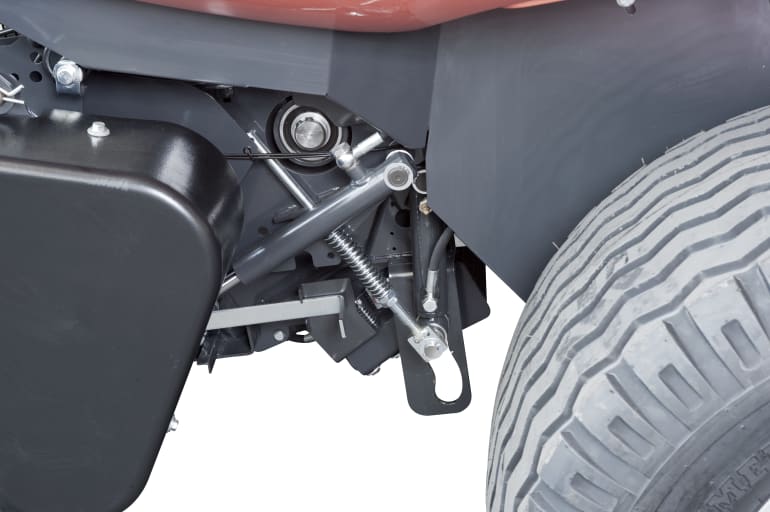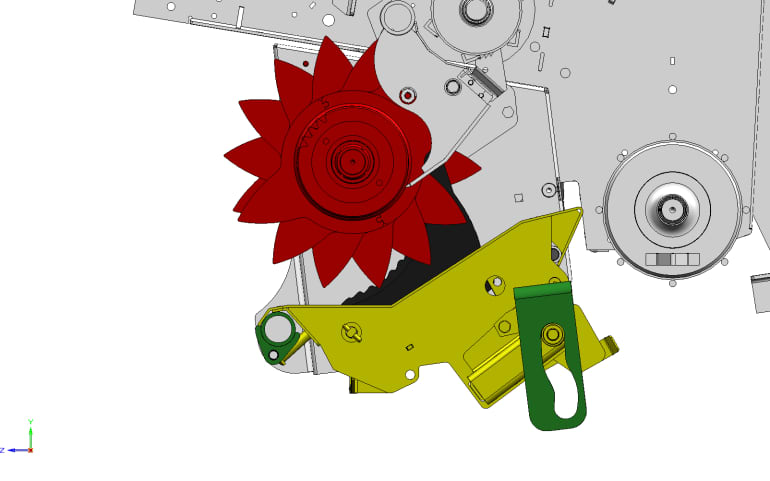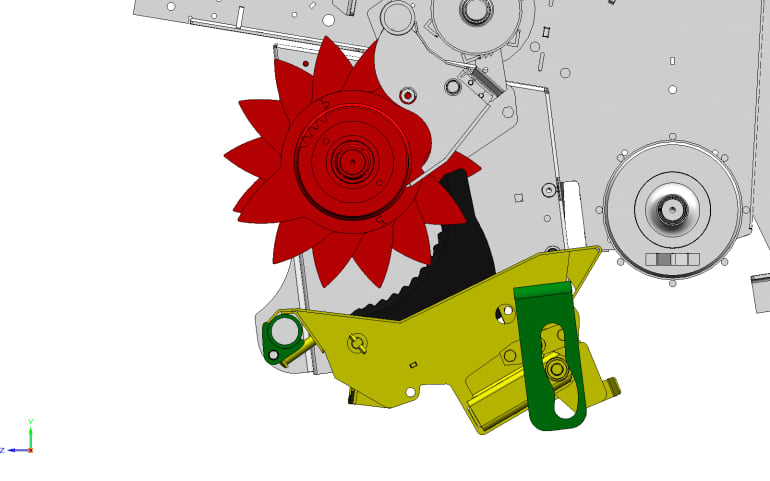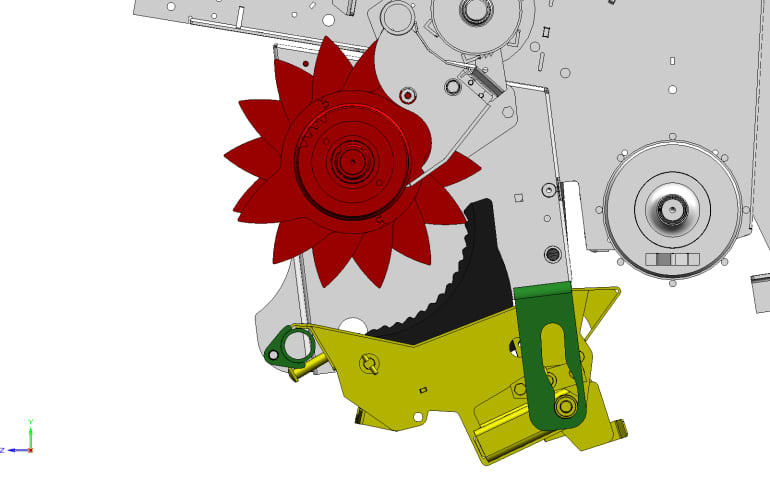 Parallelogram Drop Floor system for easy unblocking
Parallelogram Drop Floor enables the operator to clear blockages easily from the tractor cab without any crop loss.
Drop the floor to free the rotor of blockage, engage the PTO to feed the blockage through and close the floor to continue baling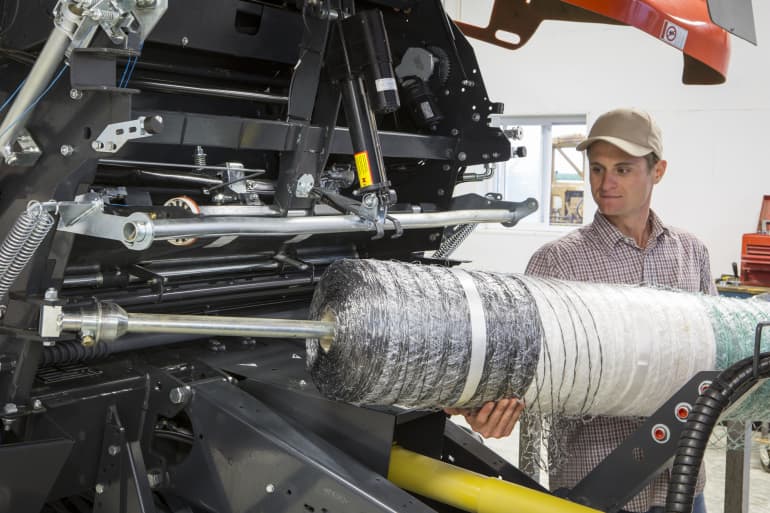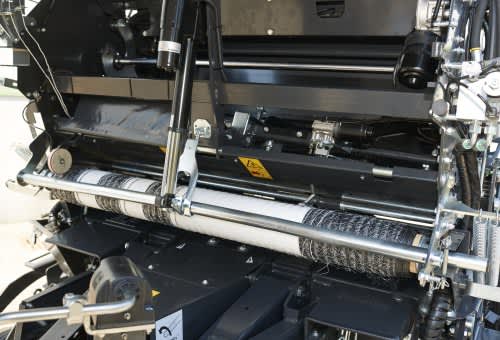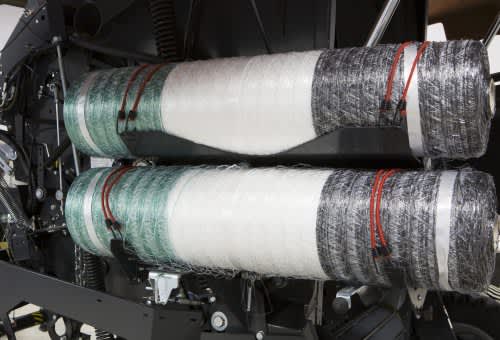 One of the fastest net wrap actions available. This means minimum downtime and maximum time baling.
The net is fed directly into the bale chamber by an injection arm in a flat movement angle to keep the net tight at all times.
Accurate and extremely reliable net injection.
No interference from external factors such as wind and crop.
When the bale is 90% complete the injection arm moves forward, ready for the net injection. No time is spent picking up the net.
Very low loading height, for maximum convenience and time saving. To replace the empty roll just swing out the shaft and replace it with a new roll
The PowerBind net wrap system allows the net to extend past the edge of the bale.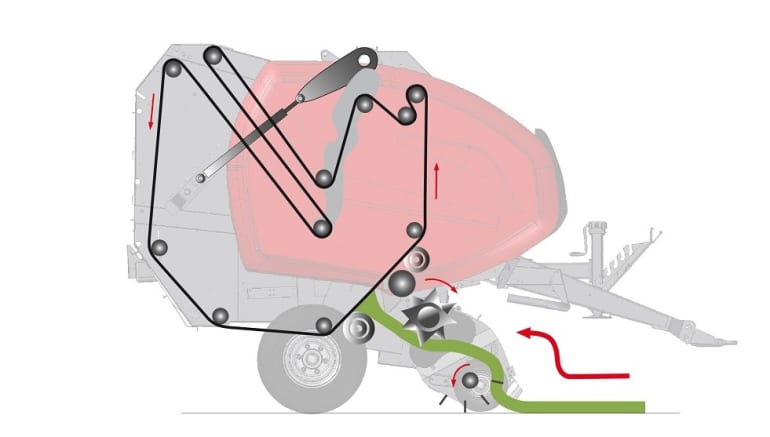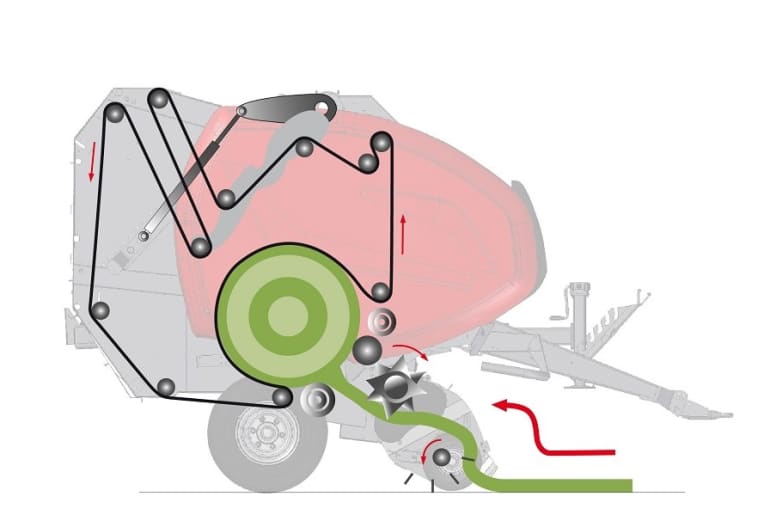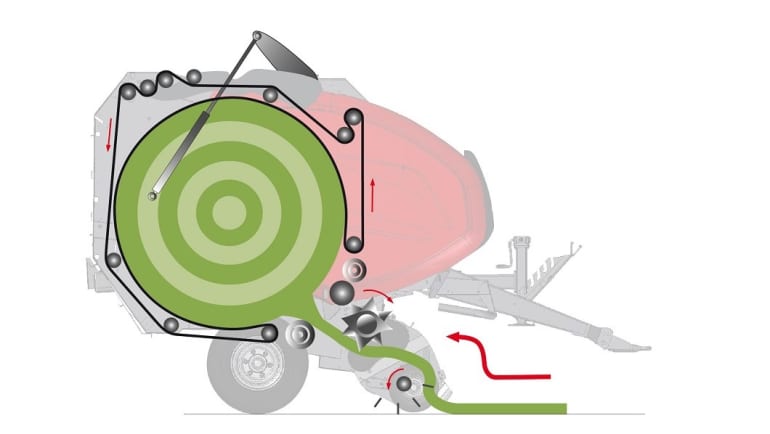 Setting and selection of correct bale density is vital in order to the get right quality of the bale. Especially when the baler is utilized through the full season in different crops like straw, hay and silage it is important to adjust the bale density to specific type of material.
Intelligent Density 3D with 3 pre-selected bale density settings making it very easy to choose the correct bale density in different crops.
It is however still possible to customize the bale density in 3 separate zones each with a choice of diameter and pressure to match specific request.
With the new Intelligent Density 3D application three pre-configured bale densities are available from the menu of the control box, each of them tailored for straw, hay or silage. This makes the change-over from different crop material much easier limiting the risk of mistakes.
Baling dry straw and want the heaviest bales possible? Maximum pressure is set in every zone.
Baling hay? Soft centre core to let the bale breath is set, with gradually increasing pressure towards the outer layer.
Baling wet silage? Pressure is reduced in the centre and mid zones.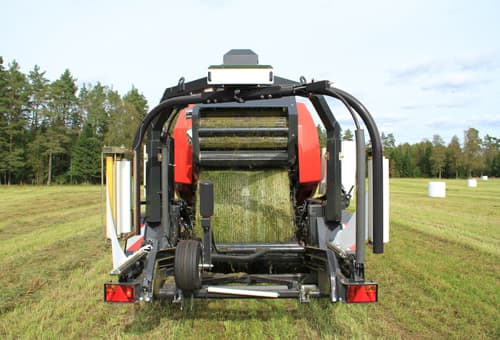 Once the net is applied to the bale the wrapping table is transferred to the tailgate of the baler unit, ready to receive the finished bale.
When the tailgate opens the bale is dropped directly onto the wrapping table, with no interfering steps in-between that needs to guide the bale onto the wrapping table.
This provides a very safe bale transfer with no risk of the bale rolling off the wrapping table, even when working in very hilly conditions.
When the bale is onto the wrapping table it is transferred quickly to the satellite wrapper, and wrapping starts instantly.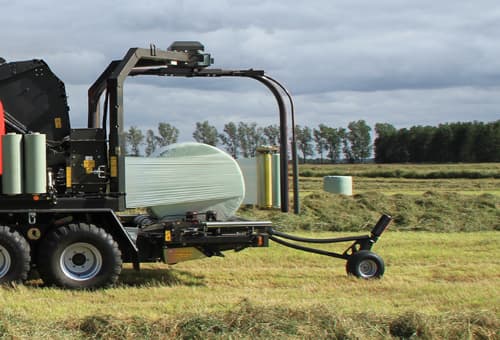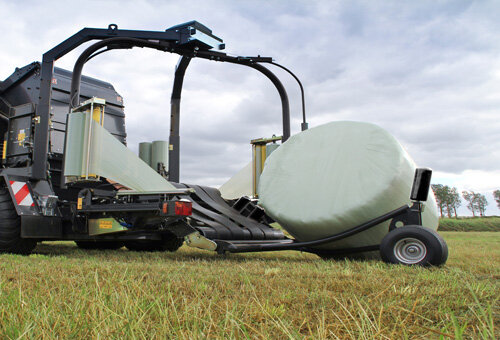 The wrapping table with 4 endless belts and rollers carries and rotates the bale evenly during wrapping with no risk of film damage.
The twin pre-stretchers ensure high speed wrapping, so the wrapping process will finish on time before the new bale is ready.
The pre-stretchers are positioned close to the bale, to limit the amount of air trapped under the film during wrapping.
Once the bale is wrapped, it can be unloading automatically or manually during formation of the next bale. The manual option gives the driver the possibility to drop the bale where most suitable, for instance so bale are all dropped in line for each pick-up.
The low mounted wrapping table ensures gentle unloading of the bales. In addition the Kverneland FlexiWrap can be fitted with a bale on end kit. The bale is tipped off gently on the end side, where the highest number of film layers is applied.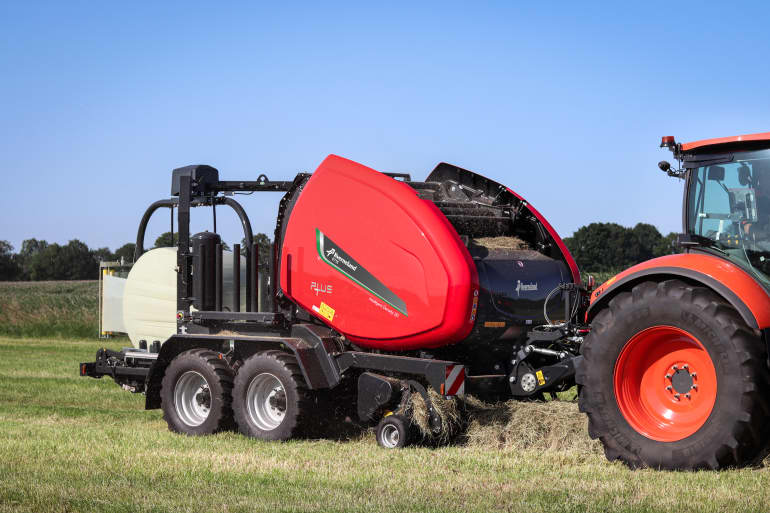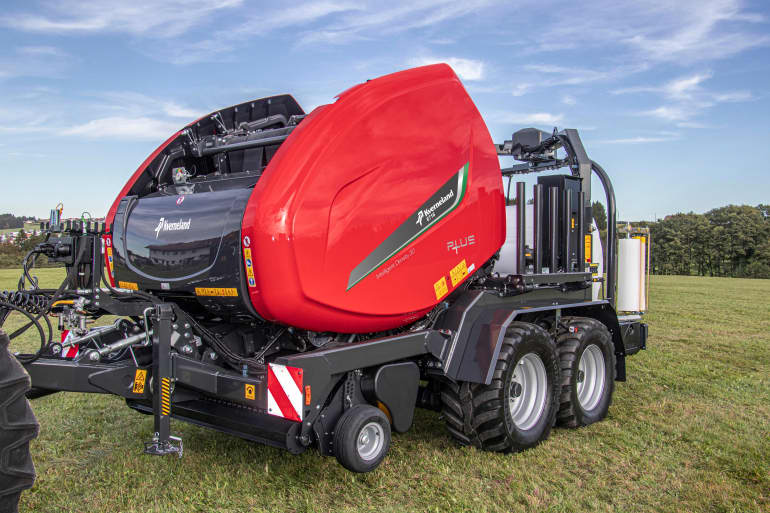 The FlexiWrap baler wrapper combination is firmly mounted onto a strong and durable chassis.
Load and weight are evenly distributed for maximum stability, for instance thanks to the low position of the wrapping table.
The tandem axle with 560/45-R22.5 tyres (optional 710/35-R22.5) provides very good stability when operating in the field or running on the road.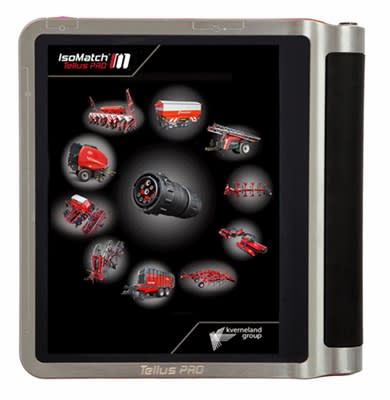 Når der besluttes, hvilket udstyr der skal købes, er det ikke altid let at finde den optimale løsning på det brede marked, som der tilbydes i dag. Teknologien udvikler sig hurtigt, da vores traktorer og redskaber er mere og mere udstyret med højteknologisk elektronik. Vi forstår denne kompleksitet og er forpligtet til at give dig nemme landbrugsløsninger. derfor er disse omkostningseffektive ISOBUS Universal Terminals, IsoMatch Tellus PRO og IsoMatch Tellus GO+ lavet til dem der ønsker en nem og effektiv maskinstyring.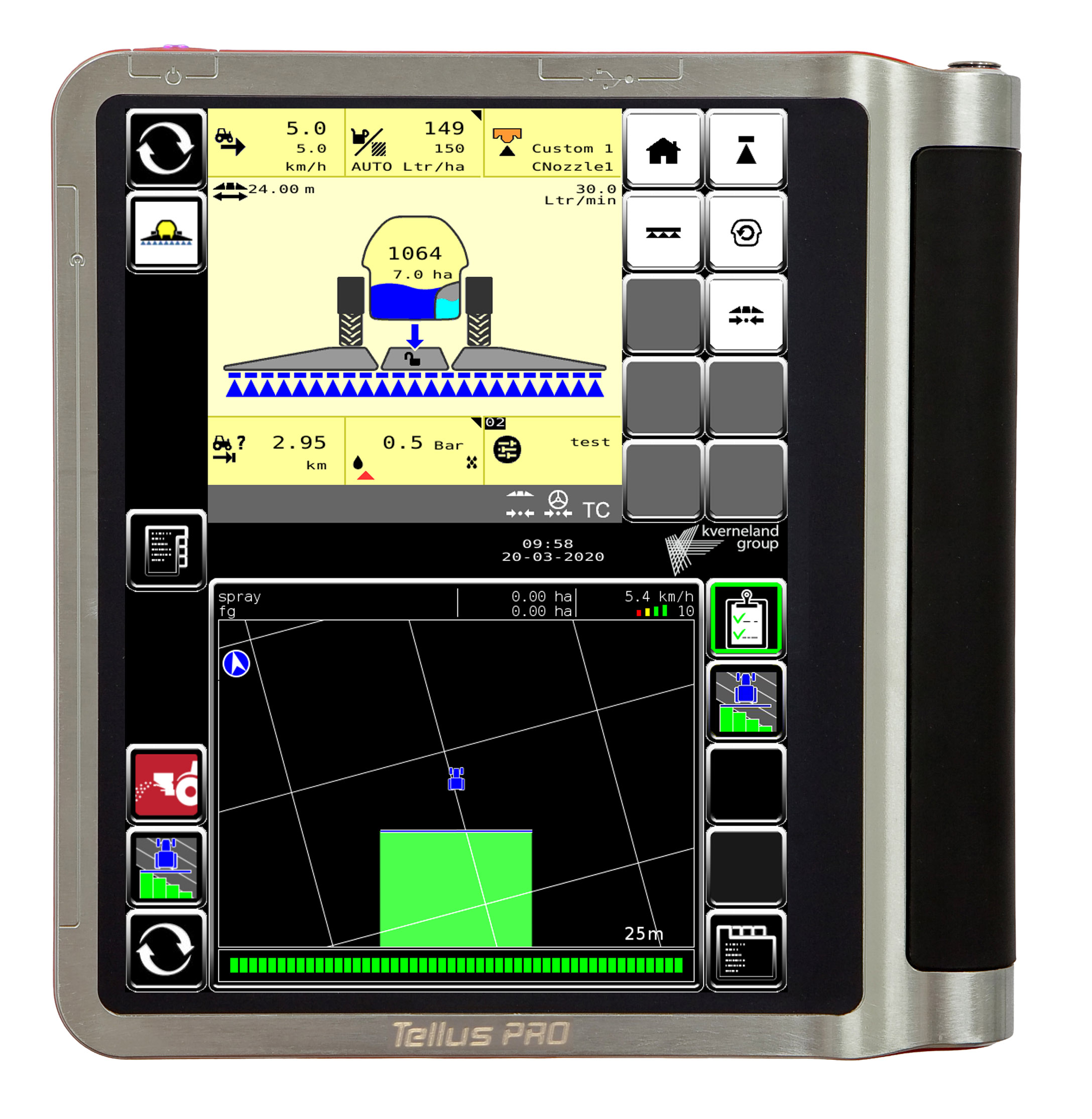 Med sine avancerede hardware og softwarefunktioner leverer IsoMatch Tellus PRO den optimale præcisionslandbrugsløsning til et alt-i-et kontrolsystem i dit traktorførerhus.
IsoMatch Tellus PRO er centrum for tilslutning af alle ISOBUS maskiner og en platform til kørsel af  præcisionslandbrugsapplikationer. Det giver alt, hvad en landmand har brug for, for at få mest muligt ud af sine maskiner og afgrøder, samt med omkostningsbesparelser i gødning, kemikalier og frø ved automatisk sektionskontrol og variabel satskontrol. Med den unikke dobbeltskærms funktion giver det mulighed for at se og styre to maskiner og processer samtidigt.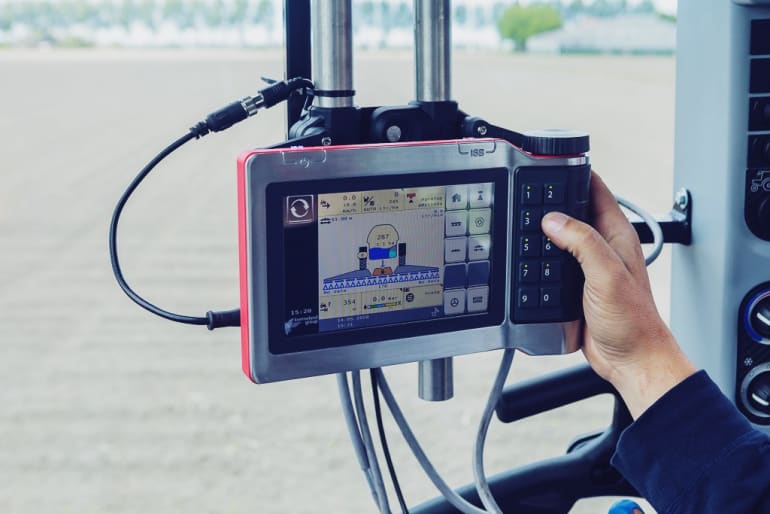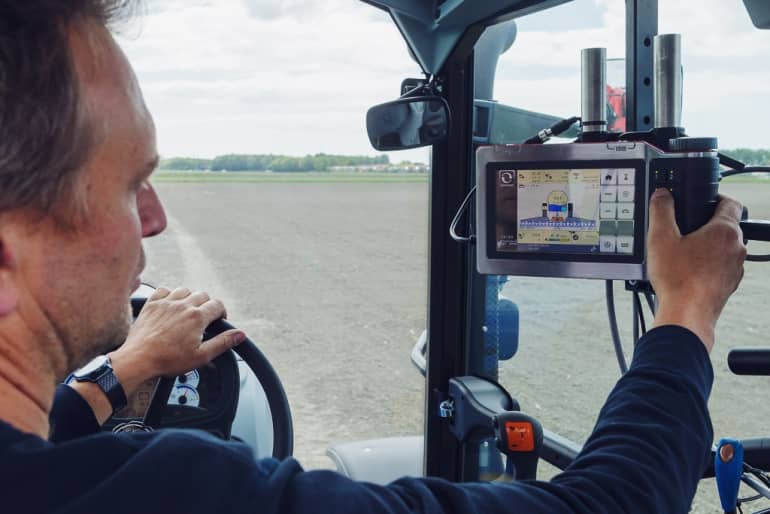 Arbejd nemt, vær i kontrol.
IsoMatch Tellus GO+ er specielt udviklet til at styre maskinen på en enkel måde. Landmanden har fuld kontrol over maskinen på præcis den måde, han ønsker. Maskinen kan nemt sættes op med de bløde taster via 7" touch skærm og optimal kontrol under kørslen skal du bruge de hårde taster og drejekontakten. det har aldrig været så nemt at styre redskabet.
Det kan være dit første skridt ind i præcisionslandbrug, aldrig har det været så let.
IsoMatch Tellus GO+ gør det nemt at styre enhver ISOBUS maskine fra dit førerhus. IsoMatch GEOCONTROL giver dig mulighed for at opnå hørere udbytte, lavere omkostninger og gøre dit arbejde meget lettere. Denne licensnøgle er opdelt i to dele, sektionskontrol og variabel ratekontrol, som er tilgængelig fra IsoMatch Shop. Nu kan du købe den specifikke funktionalitet, du har brug for.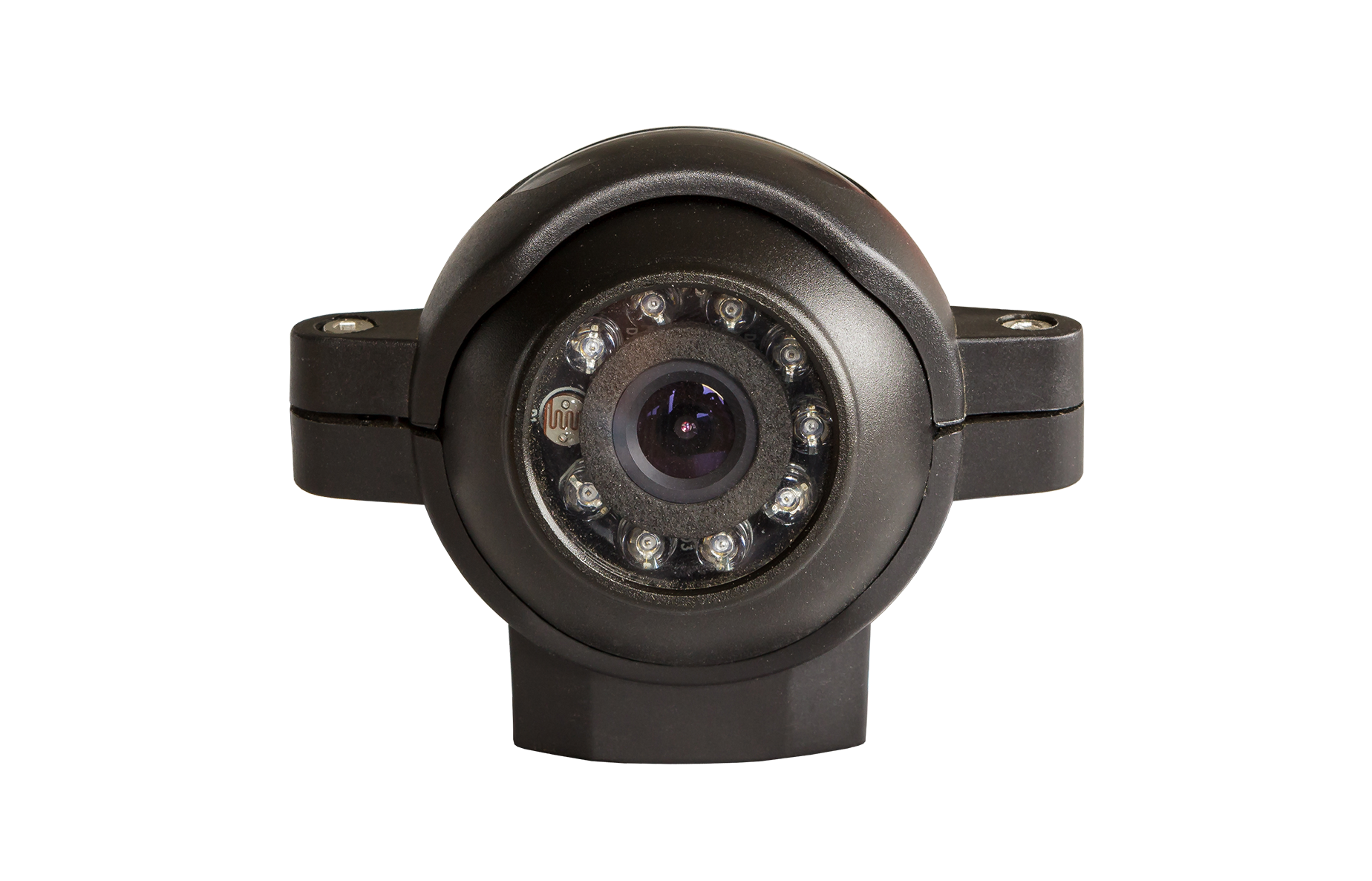 The IsoMatch Eye is the camera option in the IsoMatch product range.
IsoMatch Eye is a camera that has been developed for use with our sophisticated IsoMatch Tellus and IsoMatch Tellus GO dual screen terminal. The IsoMatch Eye is switchable from rear view to standard view.
It gives you full control and overview of entire machine operation during day and night, because of its night vision by integrated LED's. This increases the safety e.g. when reversing the machine or manoeuvring around obstructions.
SMART
Changeable from rear view to standard view
EFFICIENT
Full control and overview of entire machine operation
EASY
Night vision by integrated LED's
Teknisk specifikation
Download brochure
| | | | |
| --- | --- | --- | --- |
| Models  | Bale diameter (m) | Intake System | Binding |
| 6716 Plus FlexiWrap SC14 | 1.20 x 0.6-1.65 | SuperCut 14 | Net |
| 6716 Plus FlexiWrap SC25 | 1.20 x 0.6-1.65 | SuperCut 25 | Net  |
| 6720 Plus FlexiWrap SC14 | 1.20 x 0.6-2.00 | SuperCut 14 | Net  |
| 6720 Plus FlexiWrap SC25 | 1.20 x 0.6-2.00 | SuperCut 25 | Net |
Find en forhandler