Kverneland 97150 C
Fire rotorers ProLine model med 15 m arbejdsbredde
Højdepunkter
ProLine-gearkasse med justerbar kurveskive
Hydraulisk rotorophæng
Overbelastningsbeskyttelse på de forreste arme
Valgfri styrende transportaksel
Hydraulisk højdejustering
15 m arbejdsbredde
Kverneland 97150 C med 15 m arbejdsbredde er designet til højest mulig kapacitet.
97150 C er bygget med fokus på kapacitet og holdbarhed samt optimal tilpasning til de aktuelle forhold. Således er rivebredde og dermed også skårbredden hydraulisk indstillelig fra førerkabinen. Fire rotorer, med op til 15 rivearme, sikrer høj kapacitet og et perfekt rivearbejde, selv ved høje hastigheder. Med en rivebredde på 15 m og et perfekt formet skår er kapaciteten sat i højeste gear under græshøsten.
Fordele:
Vedligeholdelsesfri ProLine oliebadsgearkasse.
Hydraulisk justering af arbejdsbredden mellem 9,8 og 15,0 m
Hydraulisk justering af rivehøjden
Medstyrende hjul sikrer perfekt manøvreevne, også på mindre arealer.
Sammenfoldningen sikrer en transporthøjde på under 4 m - uden at afmontere rivearme.
ISOBUS kontrol.
Optional with GEORAKE Application.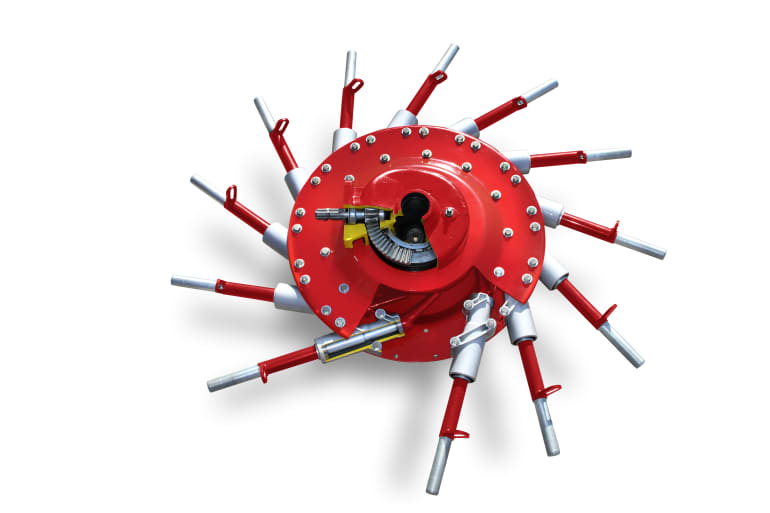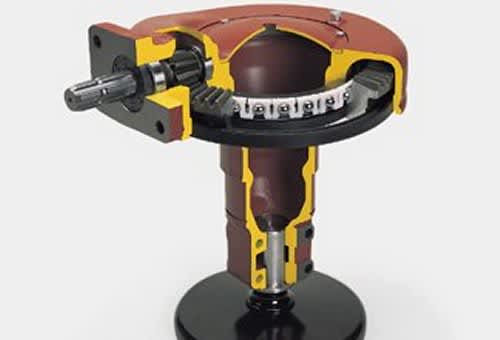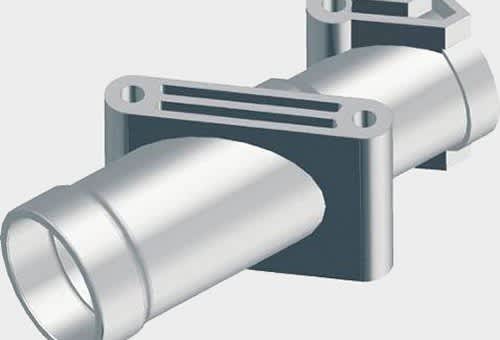 The ProLine rakes feature a unique drive system which comprises oil-immersed pinion and crown wheels.
The fully enclosed design ensures full and permanent lubrication, and makes the entire system absolutely maintenance-free.
The hardened cam track is adjustable, and features a flat curve and an extremely large 400mm diameter, providing positive guidance to the steel rollers, and promoting quiet machine running.
Aluminium bearing housings, with two integral ball bearings and wide support, provide solid and maintenance-free tine arm mounting.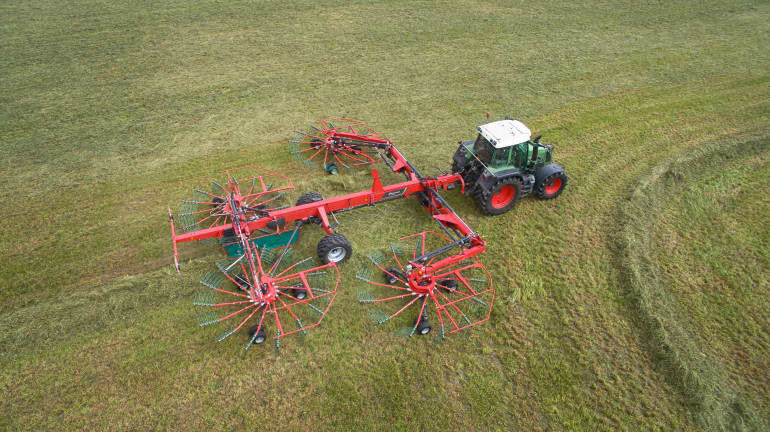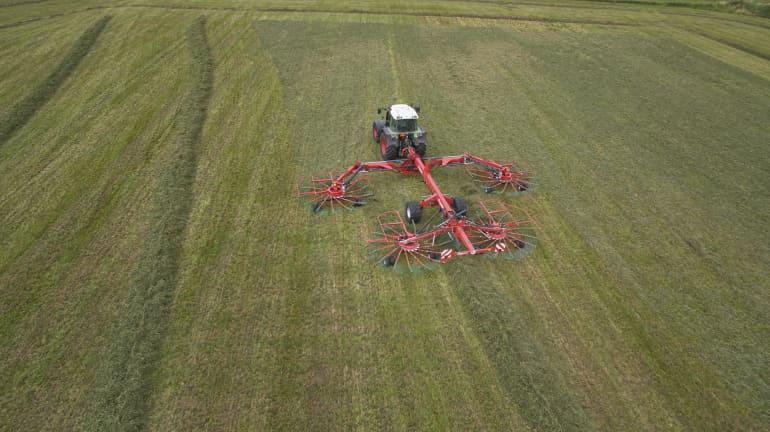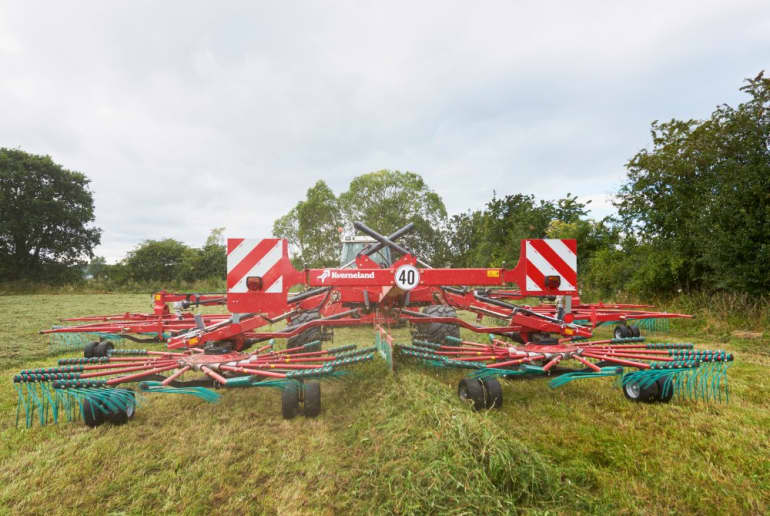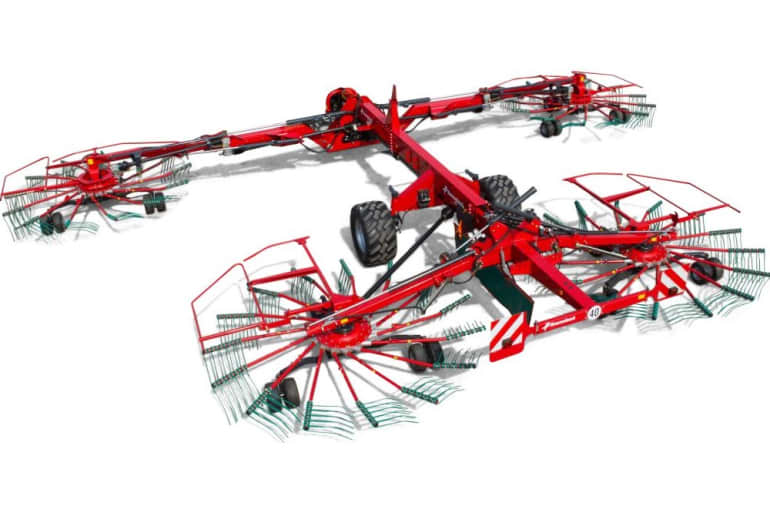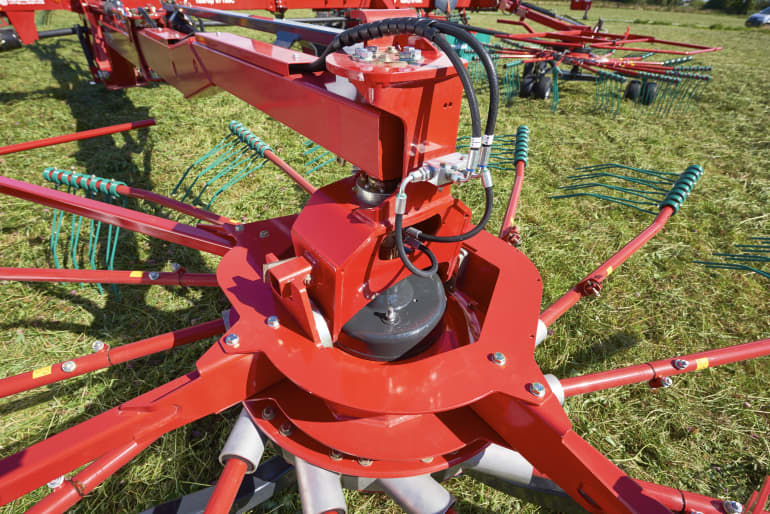 Raking width can be continuously varied on the move between 9.50m and 15.00m.
Raking width can be matched to the density of crop to obtain an evenly shaped and equally wide swath over the full length.
The two outer rotors can be adjusted individually.
You can independently steer an outside rotor around an obstacle such as a pole or tree without having to change travel direction with the complete machine.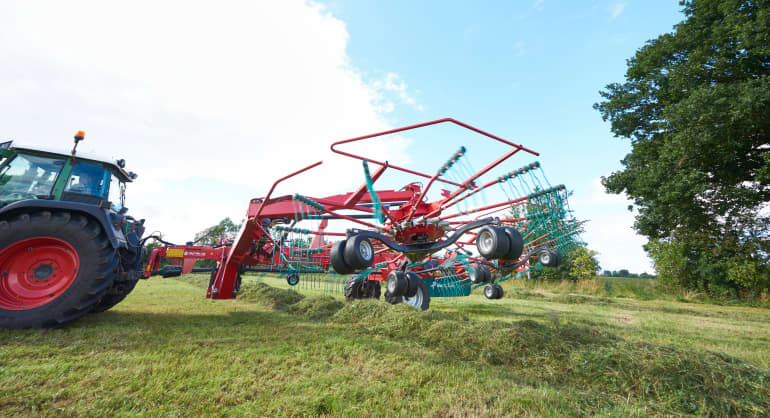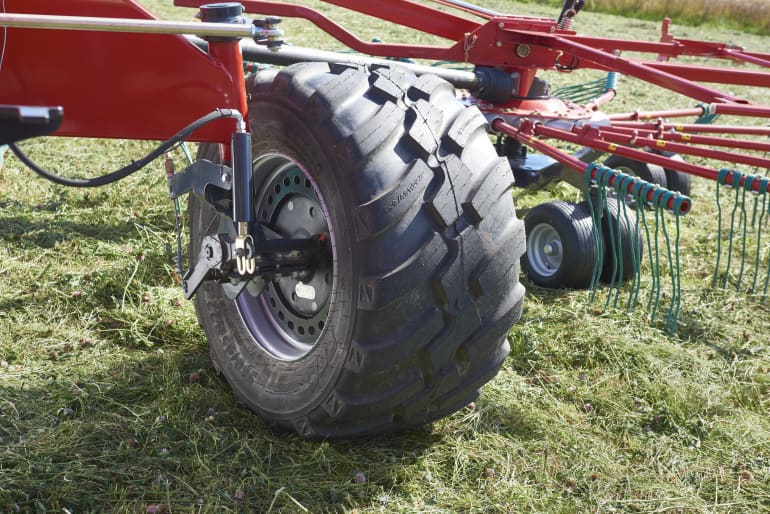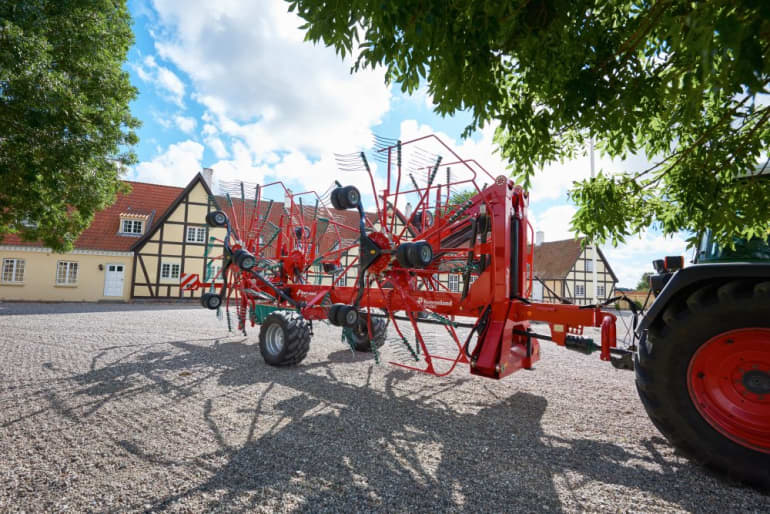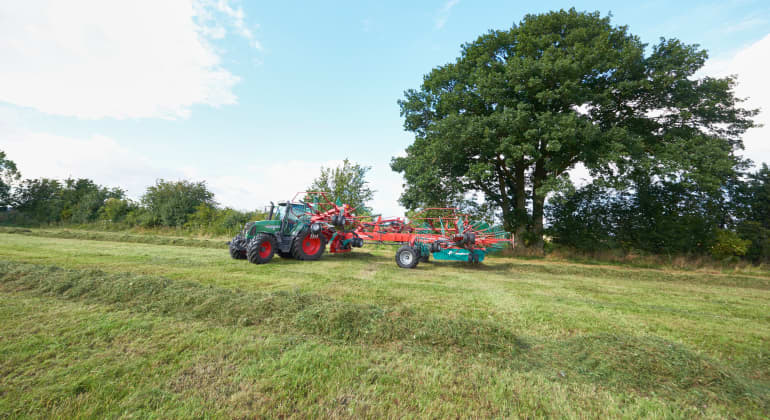 The 2-pt headstock allows a turning angle up to 80° and the steered wheel axles ensure the 97150 C has unequalled manoeuvrability.
Despite a total length of 9 m, even narrow gateways or approach lanes to fields are easily negotiated.
Hydraulic or pneumatic breaks allow  97150 C to reach high transport speeds, minimizing time spent going from field to field.
During transport the height of the machines  is below 4m, without removing the tines. Transport width with detached tine arms is only 3.45m.
Conversion from transport to working position is very fast, and is carried out from the tractor cab.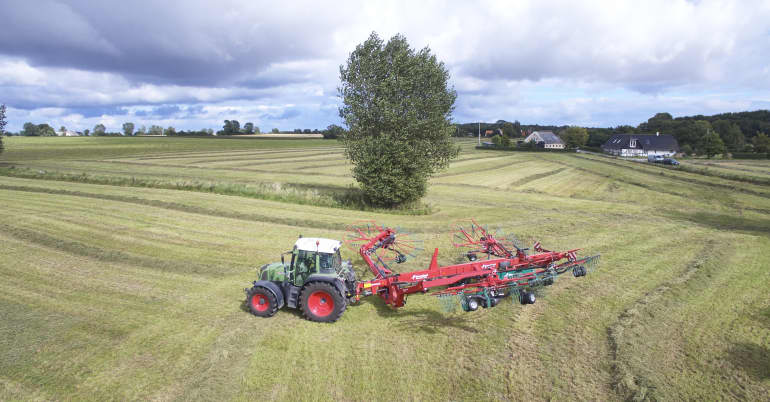 Hydraulic ground pressure control means constant and adjustable pressure on the rotors regardless of their position on the carrier frame.
Free mobililty in three planes combined with six steered twin wheels per rotor give each rake head perfect ground following ability for the cleanest possible raking performance.
Each rotor can be independently set for height by using the hydraulic system.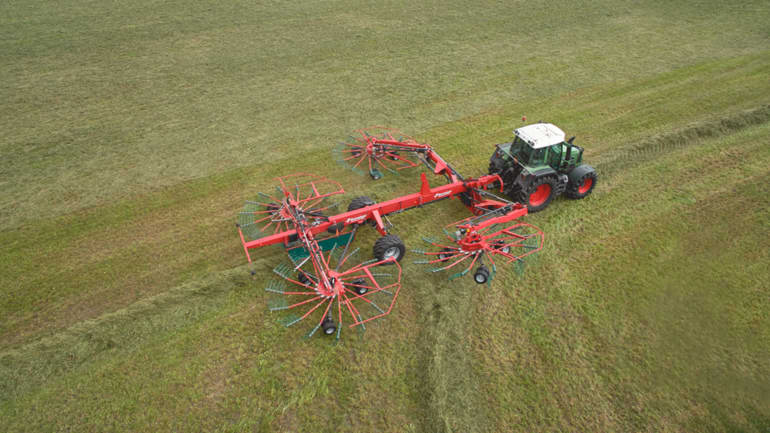 GEORAKE optimerer rive resultatet - hver gang og under alle forhold, og hjælper traktorføreren med at præstere et fremragende stykke arbejde.
Kverneland GEORAKE er den perfekte løsning, når det gælder rivning på den mest effektive og produktive måde. Det har aldrig været lettere at lave præcise og velformede skår. GEORAKE løfter og sænker automatisk hver enkelt rotor på præcis det rigtige tidspunkt - alt du skal gøre er at fokusere på at køre traktoren. Stress faktoren der ligger i at skulle lave et perfekt skår på trods af fordybninger eller uens jordstykker er ikke eksisterende med GEORAKE.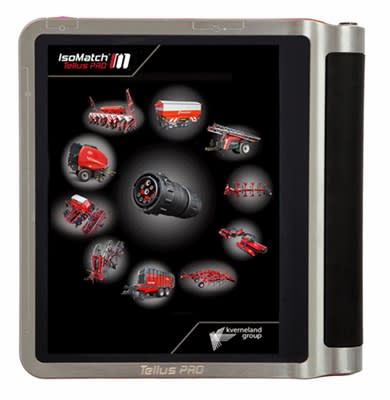 Når der besluttes, hvilket udstyr der skal købes, er det ikke altid let at finde den optimale løsning på det brede marked, som der tilbydes i dag. Teknologien udvikler sig hurtigt, da vores traktorer og redskaber er mere og mere udstyret med højteknologisk elektronik. Vi forstår denne kompleksitet og er forpligtet til at give dig nemme landbrugsløsninger. derfor er disse omkostningseffektive ISOBUS Universal Terminals, IsoMatch Tellus PRO og IsoMatch Tellus GO+ lavet til dem der ønsker en nem og effektiv maskinstyring.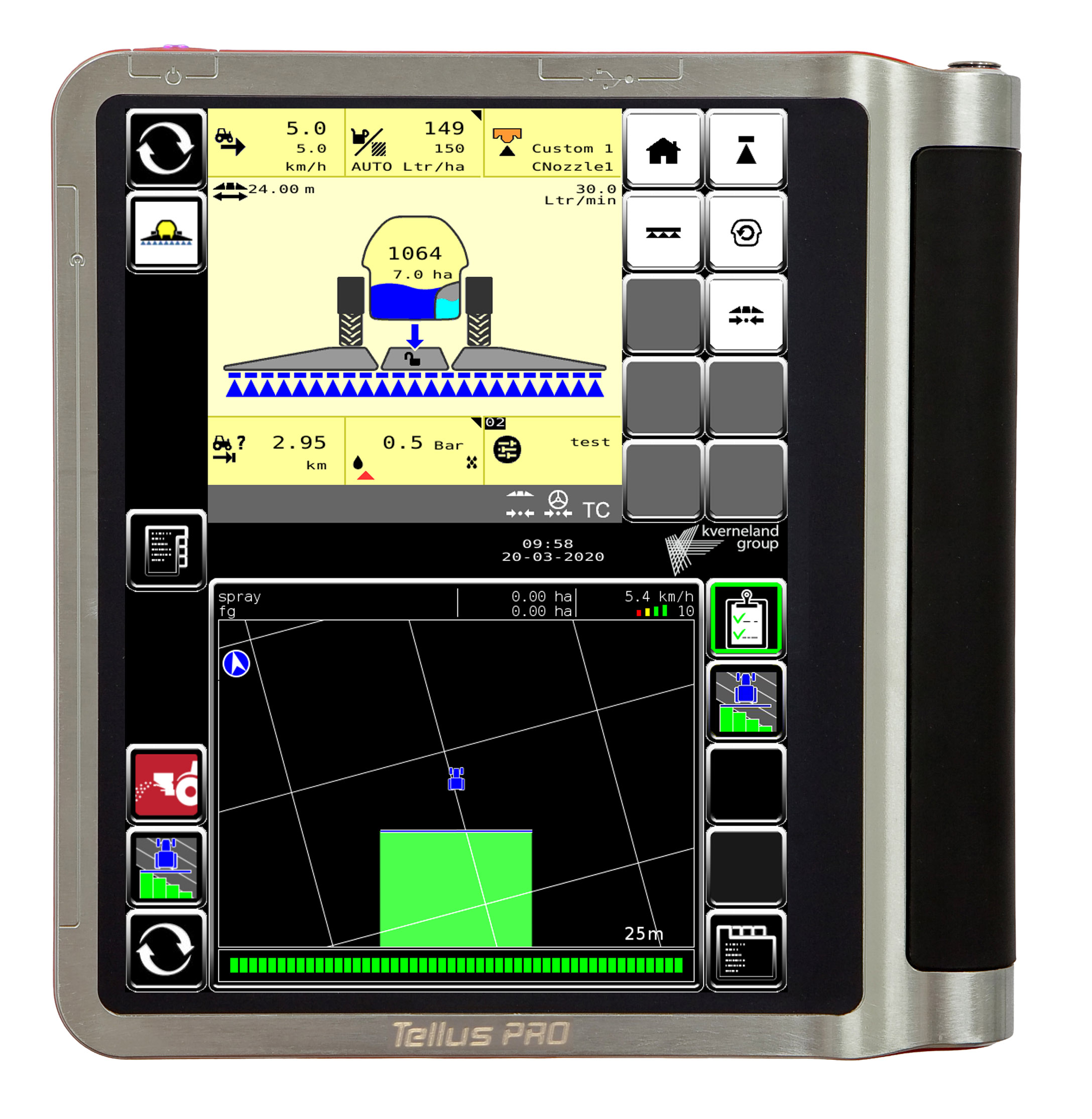 Med sine avancerede hardware og softwarefunktioner leverer IsoMatch Tellus PRO den optimale præcisionslandbrugsløsning til et alt-i-et kontrolsystem i dit traktorførerhus.
IsoMatch Tellus PRO er centrum for tilslutning af alle ISOBUS maskiner og en platform til kørsel af  præcisionslandbrugsapplikationer. Det giver alt, hvad en landmand har brug for, for at få mest muligt ud af sine maskiner og afgrøder, samt med omkostningsbesparelser i gødning, kemikalier og frø ved automatisk sektionskontrol og variabel satskontrol. Med den unikke dobbeltskærms funktion giver det mulighed for at se og styre to maskiner og processer samtidigt.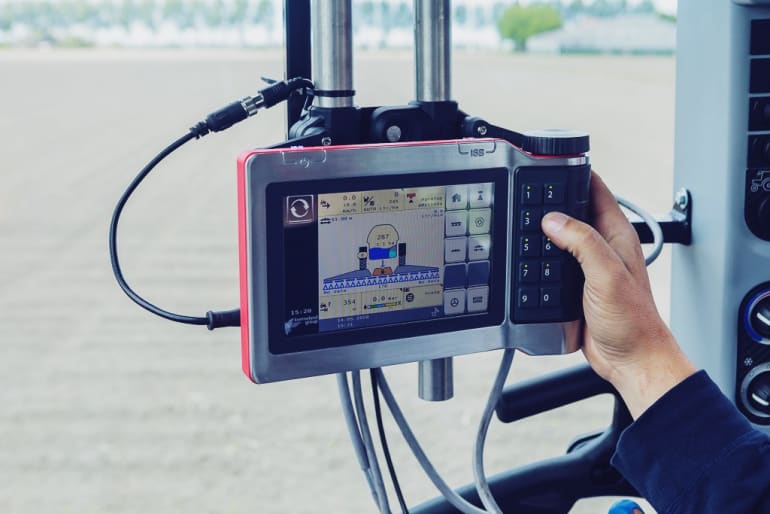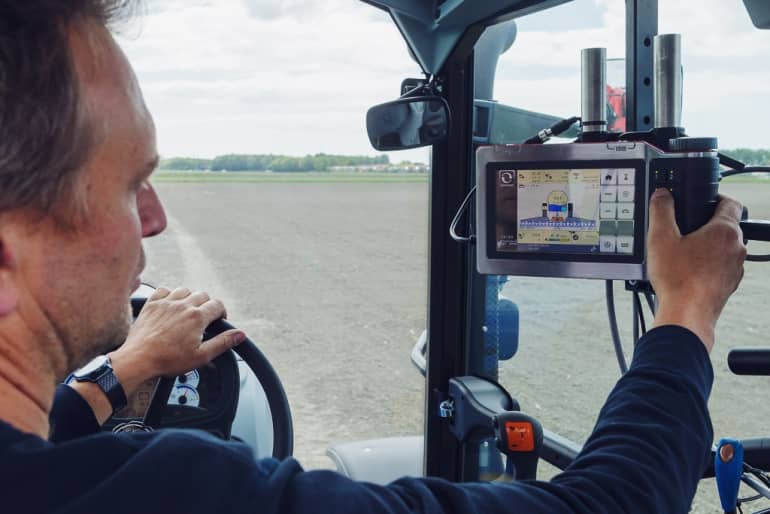 Arbejd nemt, vær i kontrol.
IsoMatch Tellus GO+ er specielt udviklet til at styre maskinen på en enkel måde. Landmanden har fuld kontrol over maskinen på præcis den måde, han ønsker. Maskinen kan nemt sættes op med de bløde taster via 7" touch skærm og optimal kontrol under kørslen skal du bruge de hårde taster og drejekontakten. det har aldrig været så nemt at styre redskabet.
Det kan være dit første skridt ind i præcisionslandbrug, aldrig har det været så let.
IsoMatch Tellus GO+ gør det nemt at styre enhver ISOBUS maskine fra dit førerhus. IsoMatch GEOCONTROL giver dig mulighed for at opnå hørere udbytte, lavere omkostninger og gøre dit arbejde meget lettere. Denne licensnøgle er opdelt i to dele, sektionskontrol og variabel ratekontrol, som er tilgængelig fra IsoMatch Shop. Nu kan du købe den specifikke funktionalitet, du har brug for.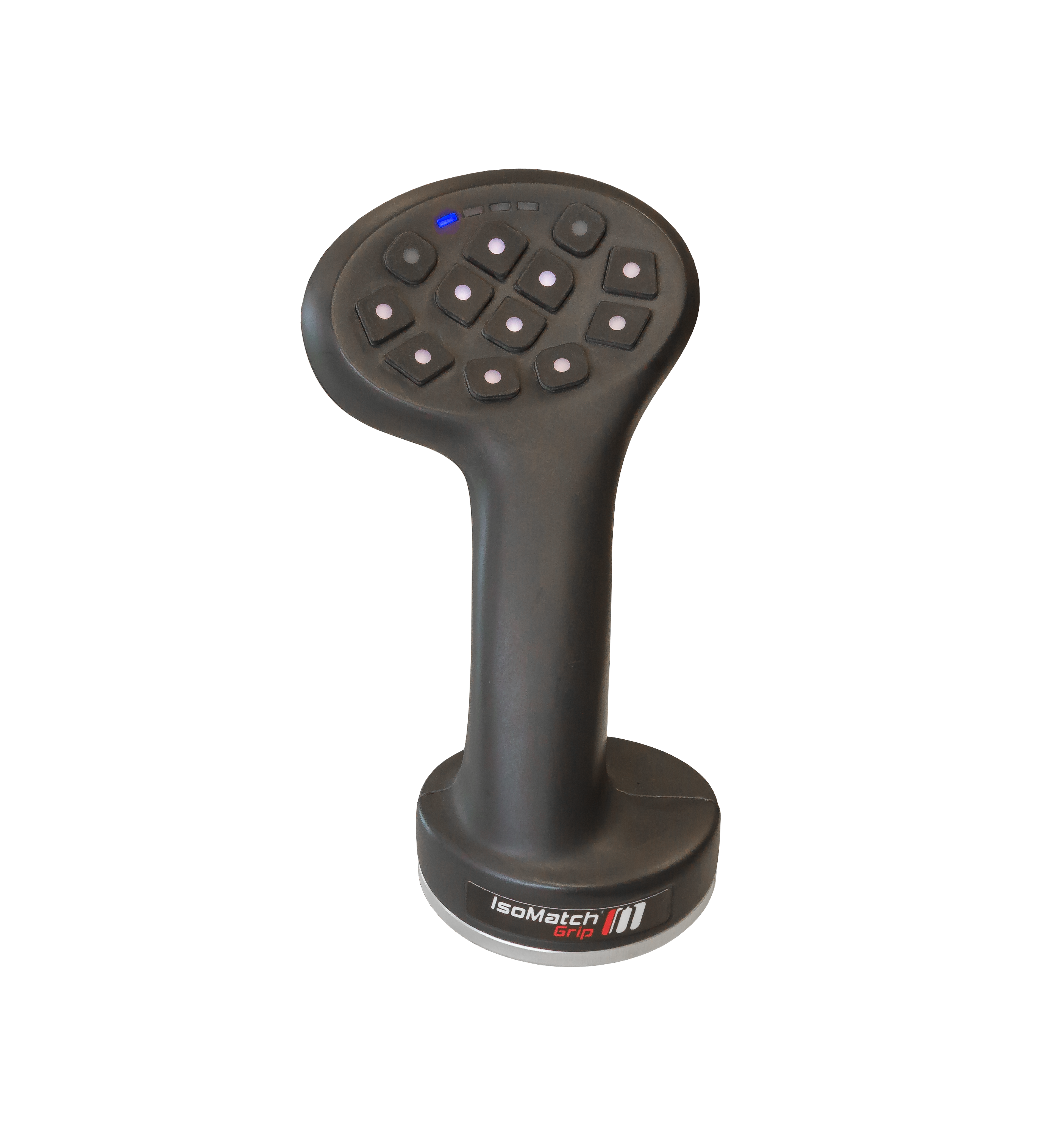 The IsoMatch Grip is an ISOBUS auxiliary device developed for great operator comfort and efficient machine control. Its ergonomic shape and the complete freedom of assigning and controlling a total of 44 implement functions from one device are unique in the market today. From your fingertips you have endless possibilities to operate all machine functions as desired. And assignments are saved per machine making it even more applicable to your needs.